Reaching new heights
EHS

track breaks three records at Cardinal Relays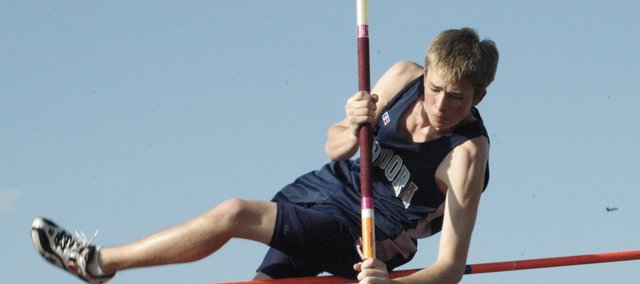 Strong winds made for a runner's paradise Thursday at the Cardinal Relays. With the wind at many of their backs, the Cardinals broke three school records, and another meet record was also broken.
"It's always good to break records," Eudora track coach Phil Katzenmeier said. "We've tied or broken five school records this year, so that really speaks well of the kids' performance."
For the boys, Justin Ballock broke his own high hurdle record with a time of 14.8 and finished first in the event. Sprinter Mike White tied the meet record in the 100-meter dash with a blazing time of 10.8 and finished in first.
On the girls side, Shea Lounsbury broke the school triple jump record with a leap of 33-feet, 10 inches and also took home the first-place medal. Runner Alisha Wingebach tied the girls 100-meter dash record at 12.4 and finished second in the race.
Ballock also finished first in the 300-meter hurdles with a time of 41.3, and also placed fourth in the high jump. Ryan Mendel and Ryan Fisher both set personal bests in the 100 with times of 11.4 and 11.7, respectively. The boys throwing relay team also finished in first.
Rachel Pyle took fifth in the 100 at 13.1, and the girls 4x100 relay team finished second.
While the wind aided many of the sprint events, it made it a little more difficult for the lap races and throwing events. Though the conditions weren't ideal for some, Eudora still had many athletes place.
For the boys, Ben Katzenmeier finished second in javelin with a throw of 151-1, Cody Carlson was fourth in the shot put at 45-2 and Matt Schultz was sixth in the discuss, For the girls, Kendal Abel was second in long jump and third in javelin and Allison Hoover finished first in pole vault at 9-6.
Senior Zane Pittman, who competed in his final Cardinal Relays and ran in the 4x100 relay – which did not finish the race, said he especially liked home track meets.
"I like it better because it's in Eudora," Pittman said. "It's a nice little home field advantage."
Next up for the Cardinals is the De Soto Invitational on Friday. And with the league meet and regionals only a few weeks away, Katzenmeier said the team was steadily improving.
"I think we're starting to catch up," Katzenmeier said. "Early on we were a little behind, but now I feel a lot better about how things are going now."
On Saturday in Lawrence, seven Eudora track athletes competed in a special challenge that was sponsored by the Army. White, who is going into the military after graduation, helped the Cardinals raise $1,000 for the Eudora track team.