Season ends early at state
Cards eliminated from state after two tough losses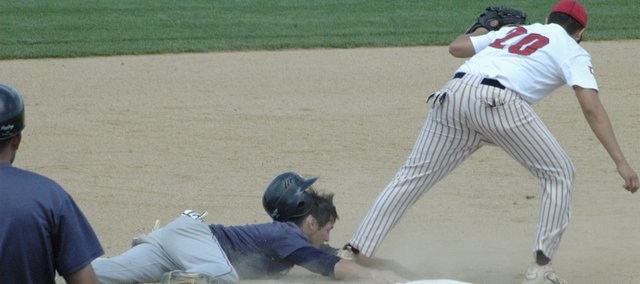 The Eudora Legion baseball team entered the state tournament playing its best baseball of the season and had dreams of winning the state title.
But those hopes were dashed with two quick losses to open the tournament in Sabetha.
In the first round, Eudora met Zone 1 winner Doniphan County and came up just short and lost 3-2. Facing elimination in their next game, the Cardinals battled hard against a quality Pratt team, but lost 8-4 to end their season early at state.
"Everybody's got to end the season on a loss but one team," Eudora baseball coach Shaun Edmondson said. "And we weren't that team this year, but in the future we will be that team."
Edmondson missed both games of the state tournament because he was on jury duty, so assistant coach Paul Houle coached both games. In the opener against Doniphan County, it was only fitting that the two dueling starting pitchers faced each other in the bottom of the seventh with two outs and the game on the line.
Eudora's left-handed starter Bryan Dudley had just ripped a double down the right field line off Doniphan County starter and fellow southpaw Colin Greaser in his last at-bat in the bottom of sixth. Dudley then stole third and stole home on a double steal to pull Eudora within a run.
But in the seventh, with the tying Eudora run at second and the go-ahead-run at first,Greaser delivered one more slider that broke just under Dudley's swing, and Greaser notched his 16th strikeout to earn a complete-game 3-2 victory.
"You try and put the kids in a situation to win, and sometimes it just doesn't happen," Houle said after the game. "Their kid threw a good game. He deserves credit. He had 16 strikeouts on us, so anytime you have 16 strikeouts, it's tough to move guys and get guys on and try to score. He deserves credit for throwing a great game."
Greaser allowed just two hits to go with five walks and his 16 Ks. Dudley also gave up just two hits to go with seven walks and seven strikeouts in his five innings. Craig Harper pitched two scoreless innings in relief of Dudley.
Dudley went 1-for-4 at the plate, and catcher Tyler Beebe had Eudora's other hit – an RBI single that scored Harper in the bottom of the first.
"He (Greaser) had a slider that everyone was just a little bit thrown off," Dudley said. "Usually we see curveballs and change-ups, and he was throwing mostly sliders. And that's a totally different pitch to hit than a curve."
A leadoff walk also proved troublesome in the fifth, as that Doniphan runner eventually came around to score from second when Eudora had a runner caught in a pickle between first and second. That proved to be the winning run.
"It's like I told the team in the post-game speech, the margin of error at state is so small you just can't make mistakes like that," Houle said. "But they'll learn."
Eudora battled back late, as first baseman Jared Ireland walked to leadoff the seventh and David Pierce put down a perfect sac bunt to advance Ireland to second. Sean Moran pinch-ran for Ireland, and Chase Brecheisen drew a walk to put the go-ahead run at first with the top of the lineup due up for the Cardinals with just one out. But Greaser struck out Evan Cleveland and Dudley to finish the game.
"I personally felt pretty confident in that situation," Houle said. "We're right where we want to be with the top of the order, and nine times out of 10, I'm betting they are going to come through."
Doniphan County lost to Ottawa 13-1 in the second round, and Pratt went on to advance to the championship game against Ottawa. Ottawa won the state title with a 12-5 win.
Edmondson said he was disappointed he couldn't coach the team at the state tournament, but said Eudora has made progress the past two years -- its first two seasons of playing Legion baseball. And in those two years, Eudora has advanced to the state tournament both times.