Kindle signs to play baseball at Baker University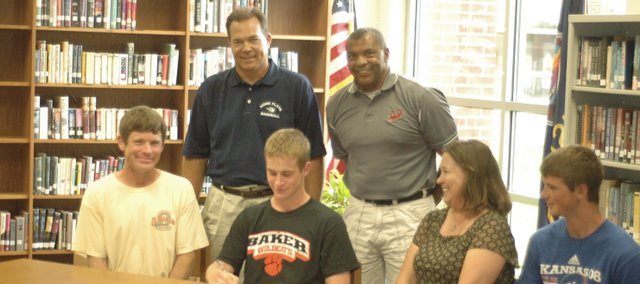 Bryan Kindle didn't get to play baseball at all during his junior year at Eudora. But after a stellar senior season on the diamond, Kindle will get to keep on playing.
Kindle, who had offers from several other schools, signed a letter of intent last week to play baseball at nearby Baker University. Kindle said the deciding factor was the rapport he had with the Baker coaches, especially head coach Philip Hannon and infield coach Aaron Westerhouse, who played at Eudora.
"Some of the other schools, when I went and talked to them, some of the coaches just didn't seem like real nice guys," Kindle said. "I'm sure they were, but they just didn't come out and greet me like they did at Baker… I just thought it was the right spot. I liked it a lot."
Hannon said Westerhouse told him Kindle would be a good fit at Baker.
"Aaron is one the one who introduced me to this fine family and said, 'Hey, we need to take a look at this kid.' And we kept pursing it and things worked out real well," Hannon said.
Hannon added that while Kindle played first and a little bit of third for the Cardinals, he could see time all over the diamond. Kindle played this summer for the Lawrence Raiders and coach Wilson Kilmer.
"He was a guy that I kept holding up to the other people on our team about how hard he played this game and how hard he worked at it," Kilmer said. "He just did a tremendous job for us this summer and I expect nothing but good things for him at Baker."
Eudora baseball coach Shaun Edmondson said Kindle, who was an all-league pick in the spring, was not only a good player but a team leader.
"As a leader, the kids followed him because what B.K. said they would do because he had the team's best interest in mind."
While he was out with an elbow injury during his junior year, Kindle still attended practice every day and played catch with his left hand. And Kindle even showed up to a Eudora practice this summer after playing a game for the Raiders.
"He loves the game," Edmondson said. "He's a true ambassador of the game."
And Kindle, who had a .400 batting average to go with two home runs and 19 RBIs as a senior, added that after a long summer of debating where to play baseball, he made the right choice.
"I've always dreamed about playing college baseball," Kindle said. "I'm the first one in my family to go and play a sport, so I'm excited about that. I've always wanted to. When I had my arm injury I thought I wasn't going to be able, but I got to come back and play first base and now I get to go on."
More like this story