Strong offseason has runners ready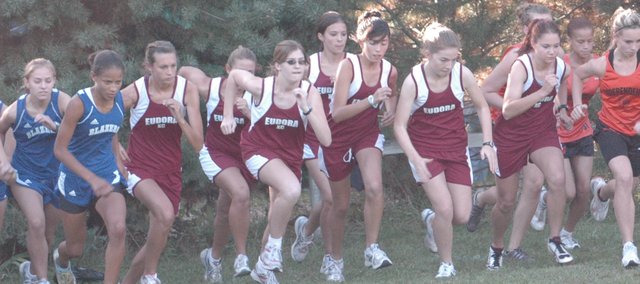 A strong summer has given Eudora cross country coach Paul Boone reason to smile, as his team began cross country practice on Monday.
Junior runners Kaya Riemann and Ivan Espinosa are looking to return to the state meet, where they finished last season. Both battled injuries at the beginning of last year, but come into the season healthy.
"They're working back into form," Boone said. "Kaya's had a really good off-season and Ivan's working himself back into shape, and we look for big things from them again. Those kids have goals that they are aiming for and Coach Kuhlman and I are poised to help them get as many of those goals accomplished as possible."
Eudora graduated nine seniors from last year's squad, but has several key runners returning for both the boys and girls teams.
For the boys, Colin Forsberg, John Hadle and John Samrow could have big seasons.
"Colin, I think he really developed toward the end last year," Boone said. "And I have high hopes for him."
Senior Kyle Snow is also out for cross country for the first time.
For the girls, Eudora has four seniors, Molly Brunton, Taylor Johnson, Hannah Pittman and Amalie Thomson. Boone said sophomore Whitney Weld was the team's most consistent performer during the offseason.
"As a freshman, she was still kind of finding out what it took and I've been really impressed with her work ethic this offseason," Boone said. "She's going to see a lot of gains."
Boone said most of the team was in shape as fall sports practice began, but added that those who aren't will soon catch up.
"It's just kind of the law of the jungle," Boone said. "If you're ready to train, we'll train you. If you're not, we'll get you ready to train and then see what we can get out of the season."
Eudora's first meet is Sept. 3 at Anderson County and Boone said the squad was already looking forward to the start of the season.
"You never know how it's going to end up," Boone said. "But you just enjoy every day and work hard and rest easy on the days you need to rest easy and take care of yourself and enjoy your teammates and training. And before you know it, you're in good shape and you're doing some incredible things. So that's what we're looking for. We're going to have fun, I guarantee that. We're going to improve."