5 Questions: Eudora Elementary School Principal talks transportation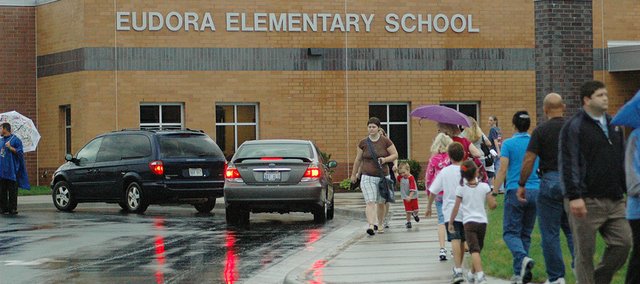 Eudora Elementary School Principal Jan Irby discussed ways to make picking up and dropping off students at the new school easier.
For more information, go to www.eudoraschools.org or call EES at 542-4950.
Q: Where should parents drop off and pick up students ?
A: We encourage parents coming from the west to use the west entrance and those coming from the east the east entrance.
When parents want to visit the office, follow the lane either on the east or the west to the nearest parking space. We appreciate them not parking at the curb for better flow of traffic and safety.
Drivers need to remain in one line for the safety of all students; passing other vehicles once children are unloaded from your vehicle is unsafe.
Q: How should students walking to school approach the building?
A: They should enter the school property from the south or from the east, along Peach Street or along 12th Street. Due to the volume and speed of traffic, no students should walk along 10th Street.
Once at the school, students will enter and exit the building from the southwest doors, by the commons.
Q: Can students ride their bikes to school?
A: At this time for safety reasons we will not ride bikes to school. Until we know more about the routine of the morning and evening we think it best to make sure that all are safe in not riding the bikes to school.
Q: What about students who ride busses to school?
A: Students on buses will enter and exit through the south and west doors of the building, where the buses drop off and pick up. Those picking up a child who has ridden the shuttles to EES should use the designated parking lot on the far southwest end of the school.
The shuttle buses are a very nice convenience for families. Information concerning the shuttle sites, times of arrival and departure can be obtained from each of the schools, our Eudora Schools Web site and the transportation department. Shuttles are free and available.
Q: How have things gone so far?
A: Volunteers have helped with the parking and teaching the routine for pick up and drop off before and after school. With learning a new routine sometimes we must learn from experience and adjust for a better outcome and we again thank the parents and students for helping us make adjustments as we do many things for the first time. Their patience has been extremely helpful.
We are off to a great start. Our staff is stellar, our students are stars and our parents are wonderful supporters.