Ready for the road ahead
Seniors look to lead Cards through tough early stretch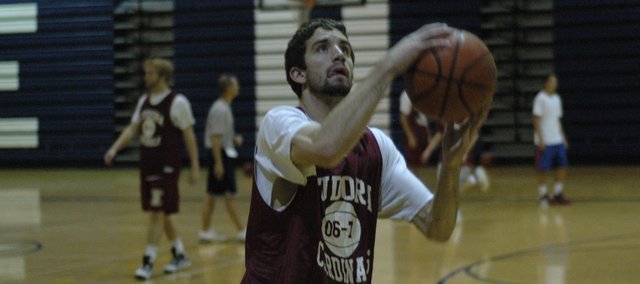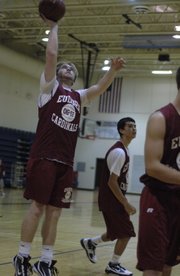 The Eudora boys basketball team has a difficult road ahead of them. But it's a road the Cardinals say they are ready to travel down.
The Cardinals open the season Friday at Anderson County, and they will then play in the Eudora Invitational next week before traveling to Silver Lake and Prairie View in two weeks.
"We're just looking to work hard and get better, and see where it takes us," coach Kyle Deterding said.
Eudora has a solid group of seniors who logged plenty of minutes last year. Seniors Justin Ballock and Evan Cleveland are returning starters, and fellow seniors Brian Katzfey, Drew Noble, Joel Lauer, Coulter Vestal and Matt Jump return as well.
Last year, Eudora started the season 7-1 then finished the year winning just three of its final seven games. The Cardinals finished the year 11-10 but three of those final seven losses were seven points or less. Eudora played Paola to the wire, and took league champion Gardner to the final possession.
Those games battle tested the Cardinals and should help the team this year, as it hopes to be in the hunt for the league title. Ballock was a first-team All-League performer last year who averaged 15 points and five rebounds a contest.
Forward Michael Bricker joined Ballock on the All-League team last year, but Bricker, Cody Carlson and Kyle Swanson, who were senior starters last year, have graduated.
"We'll just play basketball," Deterding said. "Whatever they give us, hopefully we'll be able to take advantage of. We have hopefully a couple people who can do some different things, and hopefully we'll have a few options to take advantage of things. But we'll see what happens."
Eudora beat Anderson County in its season opener last year, 46-35. Anderson County has a new coach this year, and Deterding said the Bulldogs' style of play could differ from the game last year.
But the Eudora coach added he wasn't going to worry about that. Instead he would focus on his team.
"The only thing we're going to worry about is playing hard and seeing what we can get done," Deterding said. "There are a lot of good teams around."
After the Anderson County game, the Cardinals will play in the Eudora Invitational next week. Eudora plays Ward in the first round at 6:45 p.m. Monday in Eudora.