Cards rally past Ward 53-51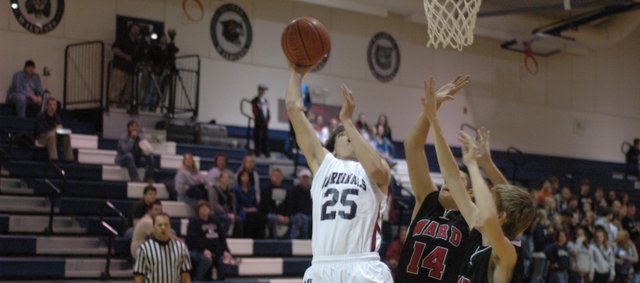 Down seven early in the fourth quarter, Eudora boys coach Kyle Deterding knew his team had enough time and energy left to make a comeback.
After blowing a 14-point first half lead, the Cardinals rallied in the fourth and defeated Bishop Ward, 53-51, in the first round of the Eudora Invitational Monday at Eudora.
"Finally, in that fourth quarter we executed pretty well," Deterding said. "In that second and third quarter, we didn't get much done."
But everything came together for the Cardinals in the fourth, as they outscored the Cyclones 17-9.
Justin Ballock's jumper from just inside the three-point line gave the Cardinals a 52-51 lead with 1:15 to play, and Drew Noble added a free throw with 20 seconds left to preserve the win.
Brian Katzfey and Connor Scott started the fourth quarter rally with threes, and Evan Cleveland's layup cut the lead to 46-45 with 5:00 to play. Then Ballock scored three consecutive field goals to put Eudora back in front.
"It seemed like it was an uphill battle," Deterding said. "But we hit a couple, and they missed a couple that got us back in it. And the last two minutes, we executed pretty well."
Eudora jumped out to a 20-6 lead early in the second quarter, but Bishop Ward went on a 20-5 run and took back the lead before half. And in the third quarter, Ward's zone defense led to numerous turnovers and early shots by Eudora.
"We took two quarters off, so we had something left in us for sure because we didn't do much in the second or third quarter," Deterding said.
Ballock led Eudora with 18 points, Noble scored 11 and Katzfey eight.

Eudora (2-0) will play Tonganoxie in the second round at 6:45 p.m. Tuesday in Eudora. The winner of that game will play in the championship game on Thursday.
Score by quarters
1 2 3 4 F
Bishop Ward 6 20 16 9 51
Eudora 18 7 11 17 53
Leading scorers:
Eudora – Justin Ballock 18, Coulter Vestal 3, Connor Scott 5, Evan Cleveland 4, Brian Katzfey 8, Joel Lauer 4, Drew Noble 11.
Bishop Ward – Aaron Connor 17, Zach Nill 17, Jonathan Makona 5, C.J. Vellejo 12.