Sizzling start
Hot shooting, strong defense lead boys to 3-0 record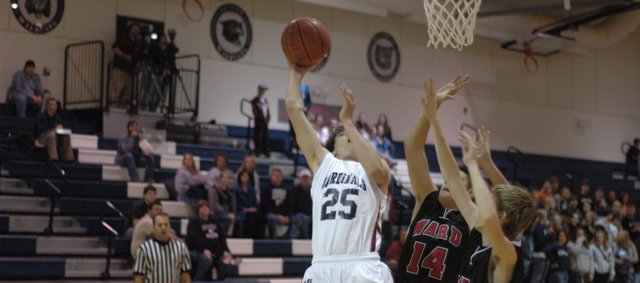 Justin Ballock erupted early and often Friday night. And he did so again Monday in the Eudora Invitational Tournament.
Ballock scored 41 points to help lead the Cardinals past Anderson County, 81-41, Friday at Garnett, and scored 18 in Eudora's 53-51 victory over Bishop Ward Monday.
Against Anderson County, Ballock scored 21 of Eudora's 31 first quarter points, including a thunderous dunk that brought the Eudora fans to their feet. Ballock made 15 field goals, two three-pointers, and hit nine of 10 from the free-throw line in the game.
"I made shots," Ballock said. "I felt good, so I kept shooting it and it kept going in."
Several of Ballock's and the rest of the team's field goals came on easy layups as a result of Eudora's pressure defense that created numerous Bulldog turnovers.
"We were pretty active," coach Kyle Deterding said. "We're not blessed with tremendous height, so if we're not very active we're going to struggle with teams. So we've got to play smart and play hard to have a chance in most of the games that we're going to have to play."
Eudora also received solid play from its eight seniors. While Ballock led the way with 41, fellow seniors Brian Katzfey scored 14, Coulter Vestal 10, Drew Noble 7, Matt Jump 3, Evan Cleveland 2, and Connor Scott and Joel Lauer each had one point.
"They're seniors," Deterding said. "It's time to go for those guys. This is their last hee-haw, so they've got to get going. Defensively they came out and did a nice job. They played pretty hard."
By halftime, Ballock had 28 points, and Eudora led 51-27 at the break. The starters were shuffled in and out in the third quarter and were eventually pulled early in the fourth quarter.
"When the shots fall like that, you play harder on the defensive end," Deterding said. "The way we shot the ball, it's hard to tell how good we were tonight because we shot the ball so well. When everything falls it doesn't matter what you do, it looks good. We made a lot of shots tonight, so everything looked a little better than it was."
Facing Bishop Ward in the first round of the Eudora Invitational Monday at Eudora, the Cardinals rallied from a seven-point fourth quarter deficit to win 53-51.
Ballock's jumper from just inside the three-point line gave the Cardinals a 52-51 lead with 1:15 to play, and Noble added a free throw with 20 seconds left to help preserve the win.
Katzfey and Scott started the fourth quarter rally with threes, and Cleveland's free-throw line jumper cut the lead to 46-45 with 5:00 to play. Then Ballock scored three consecutive field goals to put Eudora back in front.
"It seemed like it was an uphill battle," Deterding said. "But we hit a couple, and they missed a couple that got us back in it. And the last two minutes, we executed pretty well."
Eudora jumped out to a 20-6 lead early in the second quarter, but Bishop Ward went on a 20-5 run and took back the lead before half. And in the third quarter, Ward's zone defense led to numerous turnovers and early shots by Eudora.
"We took two quarters off, so we had something left in us for sure because we didn't do much in the second or third quarter," Deterding said.
Ballock led Eudora with 18 points, Noble scored 11 and Katzfey eight.
In the semifinal game against Tonganoxie Tuesday, Eudora held off a late rally, and defeated the Chieftains 55-51.
Eudora led by 10 in the fourth quarter before Tonganoxie rallied and cut the lead to two with one minute to play. But Ballock hit two late free-throws, and Eudora held on for the win.
Eudora (3-0) will play Harmon in the championship game at 8 p.m. Thursday in Eudora.
The Cardinals will be looking to win its tournament championship for the first time since 2006.
"We're going to have to contain Harmon," Deterding said. "They are really athletic, and they've got some really nice players. If we don't come ready to play some defense, we'll give up a lot of points.
"We'll have to come out and play really hard, and really smart, and do things the right way to give them a game. They're a good team, and hopefully we can meet the challenge."
More like this story