Cardinals fall in tourney title match
Second half rally not enough as Cards fall 49-45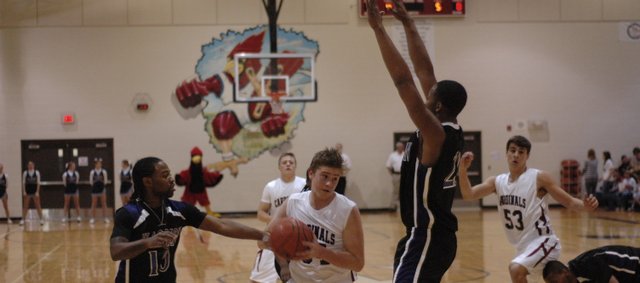 Photo Gallery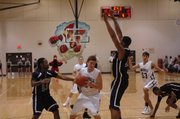 EHS boys vs. K.C. Harmon
Down three with sixteen seconds to play and the game on the line, everyone in the gym knew the Eudora Cardinals would look for senior guard Justin Ballock to send the game into overtime.
But as Evan Cleveland looked for Ballock while inbounding the ball beneath Eudora's basket, he saw his backcourt mate was guarded on the perimeter. But Cleveland then saw Drew Noble slither free in the paint. Cleveland fed Noble the ball, but Noble's shot somehow rolled off the rim, and K.C. Harmon grabbed the rebound and hit two free throws in the closing seconds, and beat Eudora 49-45 in the Eudora Invitational championship game Thursday at Eudora.
Eudora never led in the game, and put itself in 11-point hole at the half, thanks in part to 18 first half turnovers. But in the second half, Eudora took care of the basketball and tied the game three times, but couldn't quite complete the comeback.
"Their coach complemented our kids on how hard we played," Eudora coach Kyle Deterding said. "And that's what I tell them every day. All I care about is we play hard and we do things the right way. And in the second half we really competed. If we can get to where we really compete a lot, we have a chance to have some fun. The second half we really competed, and I enjoyed it."
Eudora's second half rally was sparked by hustle on the glass. At 5-foot-7, Cleveland had three offensive rebounds in the third quarter alone, and Hawley Montgomery also was active on the glass.
"Our effort was really good in the second half," Deterding said. "Evan Cleveland on the offensive boards really got us back. He was jumping in there competing with all those big guys, and him competing was a spark for us.
"I love when kids go in there and put their body on the line, even when they are not getting it. It's so much fun. We had Hawley, (Brian) Katzfey and Justin diving on the floor, and we had a lot of guys doing things that hopefully will continue, and that will help us a lot."
Ballock also heated up in the second half, and so did Katzfey. The two combined for five threes in the game, and Ballock's three tied the game at 39 with six minutes to play.
"We came in here at halftime down 11, and we knew if we didn't start playing hard and making shots, we were going to go home down 30," said Ballock, who led Eudora with 19 points.
But with Harmon leading 43-42 with two minutes to play, the Hawks went to a spread offense and ran clock, and eventually drove to the lane and scored on a layup.
"They are just so quick," Deterding said of Harmon. "In the second half we really worked our tail off trying to keep them out of the paint, and we did pretty good. But when they spread it out like that, and late we kind of had to take a chance, and they took advantage of it once."
Eudora answered right back, as Cleveland lobbed an inbounds pass at the rim for Ballock, who cut the lead back to one with 1:30 to play. Harmon then spread the floor again, but the Eudora defense held, and Noble cleared the glass, giving Eudora a chance to take the lead with less than a minute to play.
But the Cardinals committed a turnover, and Harmon hit four free throws in the final 30 seconds to put the game out of reach.
"Finally in the second half, we got some shots and made a few of them and gave ourselves an chance," Deterding said. "And that's all you can ask against a good team."
Eudora (3-1) will play Tuesday at Silver Lake.
Score by quarters
1 2 3 4 F
Harmon 14 15 7 13 49
Eudora 5 13 17 9 44
Scoring:
Eudora – Justin Ballock 19, Evan Cleveland 7, J.T. Sellers 2, Brian Katzfey 9, Drew Noble 5, Hawley Montgomery 2.
Harmon – Exavier Bass-Brooks 8, De'Ontae Hooks 9, James Davenport 14, Jauan Wilson 4, Ron Stallings 5, Alfred Hayes 9.