Grosdidier: Budget cuts will 'hurt for a while'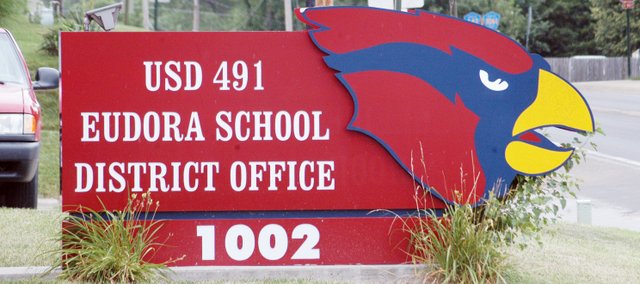 Eudora Superintendent of Schools Don Grosdidier made it clear at a Board of Education meeting Thursday that impending budget cuts were going to be more unpleasant than those the district made last year.
During a discussion regarding recent cuts at the state level, Grosdidier said a reduction in base state aid per pupil would mean a $355,511 decrease to the district's general fund.
The cut would mean that general fund expenditures would exceed general fund revenues by about $220,000 if adjustments weren't made to the budget.
Various adjustments to line items including textbooks and teaching and administrative supplies will save the district $134,566.
The district also expects to receive about $50,000 in reimbursements and it has about $115,000 in its contingency reserve.
When board member Belinda Rehmer said she hoped to make the budget cuts "without our kids suffering," Grosdidier said that likely would not be possible.
"I'm sorry, but we are beyond making cuts that aren't going to impact anybody," Grosdidier told the board. "Maybe we did some of that last year, but people are going to suffer. We need to be honest about that because the public needs to understand that. It's going to hurt, and it's going to hurt for a while.
"A kid only gets a chance to be a second-grader one time. A kid only gets a chance to be a senior one time. If we have to make decisions that impact those experiences, that's a terrible, terrible thing."
Grosdidier also said he was worried that one of the long-term impacts would be a shortage in teachers because prospective college students would choose not to enter the teaching field.
"Why would you go into education if you're going to come out of college and not have a job to go to," Grosdidier said.
No immediate cuts were made and the deficit can be covered, but the district is running numbers that will dictate the amount that will need to be cut out of next year's budget.
"The amount will be fairly substantial and there are going to be some things that could raise eyebrows," Grosdidier told the board. "Everybody at this table knows that the biggest cost to the district is personnel, and that's probably what it's going to come down to."
In the near future, the district will look into decreasing building hours and the number of instances in which it waives facility usage fees.
Grosdidier also discussed joining the Schools for Fair Funding Coalition, which consists of various school districts that would sue the state of Kansas because of this year's budget cuts.
The membership would cost the district no more than about $7,000 per year.
No action was taken and Grosdidier said the district would try to be patient.
"The governor (Mark Parkinson) has asked school districts to be patient and we're trying to be," Grosdidier said. "But certainly, if it doesn't look like there's a serious attempt to address revenue issues, then I might be likely to recommend we join."
In other action, the board received a bid of $89,773 from American Roofing to fix sections of the Eudora Middle School roof.