At your service:
EHS

senior recognized for volunteering efforts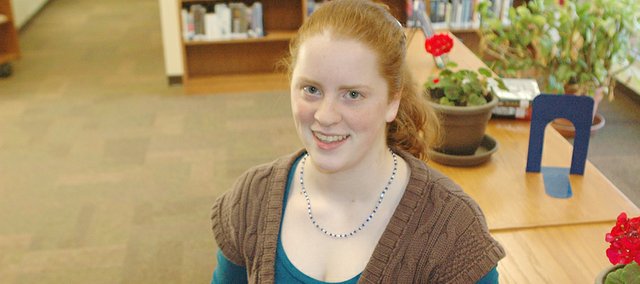 Despite the fact that Emma Kruger was about to accept an award for her dedication to keeping children safe, it took a rehashing of her work to cause her to realize her importance.
"After I heard that I had personally checked more than 400 (child passenger) seats since 2005, then I thought, 'Maybe I am making an impact.'"
Last week, Safe Kids Kansas presented the Eudora High School senior one of three Service Recognition Awards.
According to a press release from the safety organization, "Kruger has strived to increase injury prevention efforts in her community through one on one education, presentations, grant writing, serving on committees and representing Safe Kids Douglas County at local events."
Emma first came into contact with Safe Kids Douglas County while accompanying her mother, who was a volunteering child passenger safety technician, to several child safety seat checks.
"Emma gradually began getting more involved, and finally some of the techs would have her come help since her hands were smaller and would fit behind seats into small spaces," said her mother, Barbara Kruger.
A couple of years later, John Drees, community education specialist for Lawrence Memorial Hospital and coordinator for Safe Kids Douglas County, asked her to become a safety technician.
At 13 years old, she realized the gravity of what being a safety tech would mean, but she took on the challenge and became one of the youngest safety techs in the nation.
"We try to use people from all age groups and finding good volunteers is really hard," Drees said. "So, having someone like Emma that has just really stepped forward and been so dedicated — it's not just her natural talent, it's that she's applied herself and been there at many, many events."
In addition to being involved with Safe Kids Douglas County, she also is on the Eudora Pedestrian Safety Committee.
"I think she has always wanted to help others," Barbara Kruger said. "She is very popular in the church nursery, and she just has a great relationship with children."
Though Emma initially worked for the safety of younger children, she also cares about her peers.
"What we do is more for children, but I've learned enough that I can tell my friends," she said. "It's important for me to know that they're driving safely and wearing their seatbelts."
Emma also is in the EHS choir and the Eudora United Methodist Church youth group.
She plans to attend Kansas University next year and will continue in her volunteering efforts.
"I'm hoping to recruit others because there are a lot of people who will do community service, you just have to ask them," she said.
More like this story