Girls lose rematch, 54-34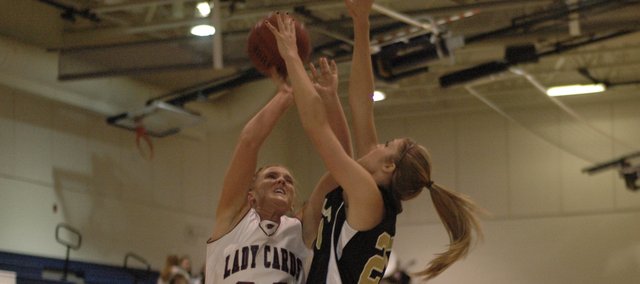 This one wasn't pretty.
The Eudora girls were seeking payback last Friday against visiting Paola, who beat Eudora in the championship game on the Eudora Invitational Tournament in December. But too many missed shots and turnovers doomed the Cardinals early, and they were blown out, 54-34.
"I'll give them credit," Luke said of the visitors. "Paola's a very, very good team, but we didn't play very well. When you don't play well against good teams, that's what happens. They whoop you."
Haley Epperson led Eudora with 16 points and was the only Cardinal to score in double figures. The Cardinals didn't have trouble feeding the post, but Epperson was swarmed by the Paola defense, often double and triple teamed.
"That's what's going to happen," Luke said. "Everybody knows she's a good player and it's tough when you get double and triple teams out there. So we have to run our offense through Haley, but we also have to understand that when she is getting double and triple teamed we need to find offense in other places, and somebody needs to step up. And we're not doing that right now."
Eudora got a somewhat surprising contribution from freshman Jennifer Bowser. Bowser came off the bench and scored six points.
"If there's a bright spot to this game, she is for sure it," Luke said. "She's a freshman and she wasn't intimidated at all. And that was good for us."
Luke said Paola didn't do anything differently than when the two teams played before, but Eudora looked sluggish from the opening tip. Paola capitalized and opened a 13-1 lead. Epperson scored that Eudora point on a free throw with 2:39 to play in the opening frame. Paola led 17-4 at the end of the first quarter.
Epperson scored Eudora's first nine points in the second quarter, and the Cardinals slowly crawled back into the game and cut the lead to six at 27-21 on a shot by Bailey Scott early in the third quarter. But Paola answered with a 22-7 run to put Eudora away.
Scott scored six points, Rachel Pyle had three, Shea Lounsbury added two and Kendal Abel had one for Eudora.
The Cardinals played a road contest Monday at Sumner Academy and lost 49-40. Next up for Eudora (9-5) is a home contest with Louisburg on Thursday.