Boys stumble twice, take 4th at Tonganoxie Invitational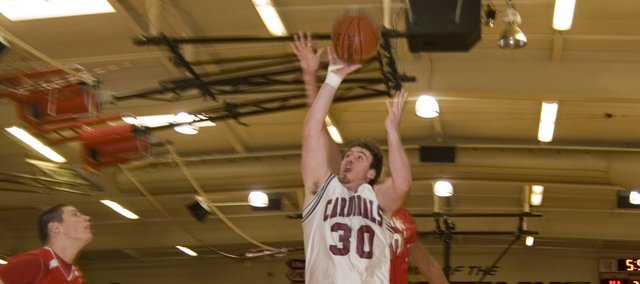 The Eudora High boys basketball team entered the Tonganoxie Invitational with one loss on the season, but after a 63-43 loss to Lansing in the third-place game on Saturday, the Cardinals left the tournament with their second loss in as many days.
Eudora started strong and led 12-6 late in the first quarter with buckets by Michael Bricker, Drew Noble, Brian Katzfey and Kyle Swanson. Eudora coach Kyle Deterding said he liked his team's effort to start the game.
"The whole first half, I thought we were pretty solid on both ends of the floor," he said, crediting Lansing for recovering and taking control down the stretch. "They're a really good team, and we were battling pretty hard."
For most of the first quarter, the Cardinals' defense troubled Lansing, forcing the Lions to earn shot attempts after multiple swing passes. It wasn't until the final seconds of the first quarter when Lansing senior Clayton Hall hit his first of three three-pointers that LHS picked up some momentum.
The Lansing defense then picked up in the second quarter and the Lions outscored Eudora, 54-31, in the final 24 minutes.
Although Lansing's backcourt did a lot of damage on offense as Hall scored 23, Calvin Schneider had 11 and point guard Curtis Beall scored seven points, it was the Lions' frontline that gave Eudora the most trouble.
Six-foot-eight Lansing senior Cody Rush was held to nine points and five rebounds, but his presence, and that of his frontcourt mates, Deterding said, was felt in the paint as Eudora tried to attack inside.
"Those 6-5, 6-4 guys are really thick. I thought our big guys did a nice job of going at them," Deterding said. "We did a good job going at them and not backing away. We just didn't make the shots and that happens."
Katzfey, who had 17 points to lead Eudora, attacked the paint more than any Cardinal and went 4-for-5 from the foul line in the process. Deterding said, however, Eudora didn't get as many free throw attempts as he wanted because Justin Ballock was the only other Cardinal to attempt a free throw. Lansing, meanwhile, shot 15-for-18 at the line.
Quite out of the ordinary, Ballock, who along with Bricker was named to the all-tournament team, didn't get in the scoring column until the fourth quarter, when he scored all six of his points.
"They weren't going to give him anything easy," Deterding said of Lansing's defense. "He was going to have to earn it."
The Lions' defense was stingy throughout the second half as Eudora hit eight of 25 shots. The Cardinals especially struggled in the third quarter, when Lansing outscored them, 17-7.
"It seemed like every time we did something good, they'd come down and hit a three — a little dagger — each time," Deterding said.
Eudora mad one last push with a 13-5 run in the fourth quarter and cut the deficit to six with 2:10 remaining, but Lansing hit free throws down the stretch.
"Good teams do that," Deterding said. "You can't dig yourself out of a hole against good teams."
Lansing responded with a 14-0 run to close the game.
Eudora's coach said that despite the losses at Tonganoxie, the team should be better from the experience.
"Every game we play the rest of the way is going to be just like this tournament. Our league is so even," Deterding said. "Our kids work hard. They'll keep their heads up and they will show up ready to go."
Eudora (8-4) played Sumner Academy on the road Tuesday night and lost 96-47. Ballock led Eudora with 12 points, Katzfey and Cody Carlson both added eight points.
Next up for the Cardinals is league foe Paola on Friday at Eudora.