Summer surge
Cardinals hope hot streak continues in second half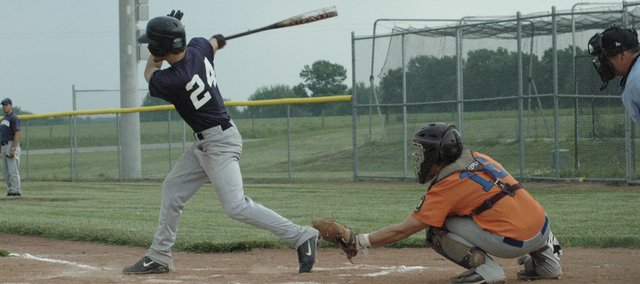 As the temperatures begin to heat up, so is the Eudora summer baseball team.
Eudora notched three more wins last week and heads into the second half of the season with an 8-6 record. Eudora took on Coffeyville June 24 at home and won a rain-shortened game, 3-0. Eudora then traveled to Hutchinson last weekend and went 2-3 at the Hutchinson Tournament.
Eudora coach Shaun Edmondson said his team was the smallest and youngest at the tournament, but the team played well overall against top-notch traveling teams from Oklahoma, Colorado, Kansas City and Wichita.
"Anytime you're playing competition at the level — I mean we're playing against guys who are 18 and 19 years old who are already playing college baseball or are going to play college baseball and we've got four or five freshman on our team and some sophomores — it's pretty neat that our kids were even able to compete at that level let alone win a couple games. So it was pretty impressive."
Eudora beat the Kansas City Hornets 5-2 for its first win of the tournament. Craig Harper started the game and, much like he has since spring baseball, dominated on the mound once again.
"He was electric," Edmondson said. "He was just nasty."
Harper got the win and also drove in the game winning RBIs in the contest. Lefty closer Bryan Dudley got the save.
Eudora also beat a traveling team from Colorado in its final game of the tournament last Sunday, 4-3. Derek Scrimsher threw a complete game to pick up the victory.
"Derek's one of those kids who just pounds the strike zone and lets our defense work for him," Edmondson said. "Our defense made some tremendous plays behind him, but anytime you're throwing a lot of strikes and allowing your defense to make plays, the tempo of the game just goes a lot better and your defense will make more plays for you."
Eudora was down 3-0 going into the bottom of the sixth, but scored four runs in the inning to take the lead. And Scrimsher pitched a scoreless seventh inning to end the game with the win, which made for the long bus ride home a little more pleasant. Eudora played five games in four days at the tournament, and Edmondson said the games were played in 100-degree heat.
"Anytime the kids are able to maintain and finish at the end, that says a lot about our character," he said.
Against Coffeyville last week, Dudley started the first game of the scheduled doubleheader and pitched three scoreless innings. Eudora tallied single runs in the first three innings, coming via an RBI single by Zach Bryant, a double steal by Harper and Chase Brecheisen, and an RBI double by Jared Ireland. The game was soon called as severe weather moved in. Eudora also swept Paola Tuesday night, 13-2 and 11-4.
"I think that we're playing good baseball," Edmondson said. "And I think we're poised to make a big-time run in the end. And that's what we're gearing for."