CPA

Picnic celebration begins Thursday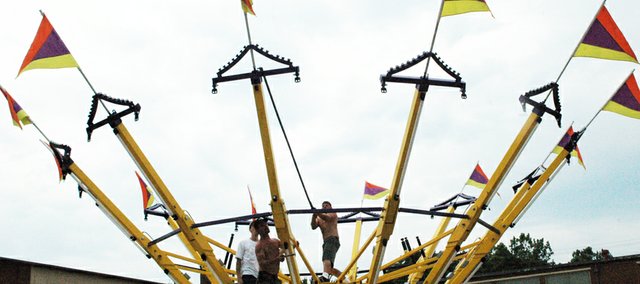 Jerry Trober vividly remembers facing his fear of heights 41 years ago when he attended the CPA Picnic in Eudora.
"I remember the big old Ferris wheel, and I got stuck on top of it," Trober said. "When I got down, I swore I'd never go on another Ferris wheel."
Despite the incident, Trober has spent the last 21 years as president of CPA Picnic organizing committee. The three-day event will begin at 6 p.m. Thursday with a carnival at the corner of Ninth and Main streets.
The CPA, which stands for Central Protective Association, started the annual picnic to honor members of the group who protected Eudora from cattle rustlers and horse thieves in the late 1800s.
The event draws people from throughout the region for its carnival, parades and the company of old friends.
Proceeds from the event go to various nonprofit groups throughout Eudora, such as Eudora High School's All Night Prom Committee, the Ministerial Alliance Food Pantry, Boy Scouts and the Girl Scouts.
About $2,000 is typically raised. Trober said members of any group that wanted to be added to the list should call him at 785-979-5730.
Last year's festivities were somewhat muted with the Main Street sidewalk and street upgrade construction, but Trober said the improvements made to the downtown area will make the festivities all the more enjoyable.
"The road is so great, and it will really look nice for the children's parade," he said.
Before Trober took charge 21 years ago, the typical term for a CPA president was two years. And while he loves that children in Eudora — including his four grandchildren — identify him as the "guy who puts the whole thing together," he would have no problem with someone else stepping in to do his job.
"I'm 63 now and I've been thinking about quitting for 10 years now," he said. "I love Eudora and I'd never leave, but if some younger person wants to take over the CPA they are welcome to do that."