Seniors lead way at
EHS

boys basketball camp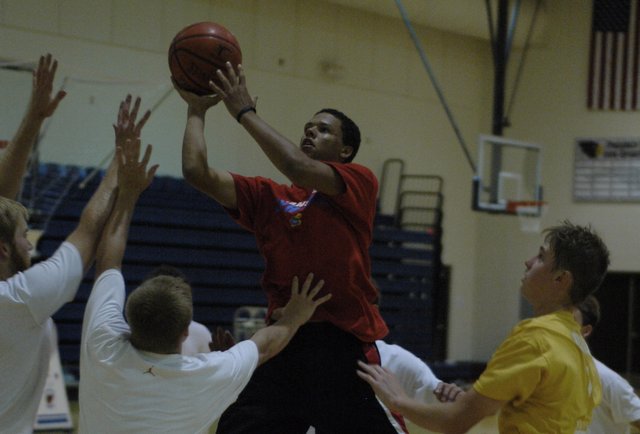 Last year, "All the way to state" was a cheer the Eudora High boys basketball team yelled out in the locker room after many of its early-season wins.
The boys basketball team took to the court last week for the first time since losing to De Soto in the first round of sub-state, and coach Kyle Deterding said his new group of seniors have led by example during the camp as they begin their quest to make it to state in 2010.
"The senior group's been pretty good," Deterding said. "Hopefully they set the tone and everybody else will follow. We need to have a good summer, so we'll see."
Eudora's group of seniors at camp included Justin Ballock, Brian Katzfey, Evan Cleveland, Drew Noble and Joel Lauer. Katzfey has been slowed by tendonitis in his knees and has only played sparingly during camp. He did play last Thursday and knocked down a couple of deep threes during a scrimmage.
"Some of the highs are just having fun and getting better and working on our offensive skills," Katzfey said. "And some of the lows are that I haven't gotten to play much."
Katzfey, though he wasn't at full-speed, participated in shooting drills, including a couple games of knockout from the free-throw and three-point lines.
"We're just trying to dribble, shoot and pass as much as we can this summer," Deterding said. "We don't spend much time on offenses and defenses and stuff. We're just trying to get them to play ball, (work on) fundamentals and have fun and compete."
And Deterding said the goal of the camp was something he's been stressing to the team.
"Have fun and play hard," he said. "It's what we talk about a lot. Get a ball in their hands and just work on fundamentals and competing and having a good time. Hopefully this kicks off a good summer. We'll see how hard these guys want to work in the summer. Hopefully they want to work pretty hard so we can have fun next winter."
More like this story