Cards get offensive at
FB

camp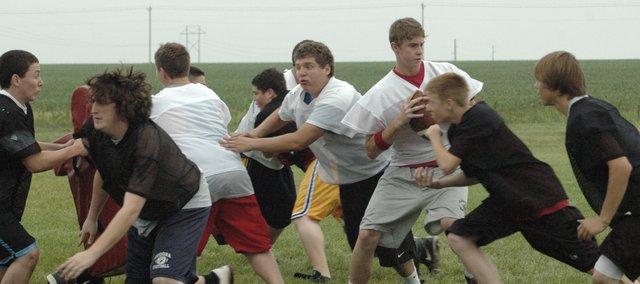 Photo Gallery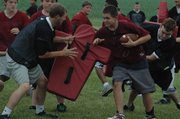 Eudora football camp
The 2009 Eudora football team will still look to run the ball just like it has in past years. But the Cardinals might have a little more balanced attack when they take to the gridiron in September.
"We're getting a lot done and our kids are catching on as fast as they can," Eudora football coach Gregg Webb said. "We've got the kids out here that we wanted, and I'm really optimistic. I really am. I had some concerns going into the year and I know we're not there yet and I know things could change. But right now it's good."
Several athletes displayed the ability to gobble up yards at football camp last week, including Drew Noble, Boomer Mays, Evan Cleveland, Christian Richardson and Brian Katzfey. While playing quarterback, Noble and wide receiver Katzfey connected on the highlight of the night — a 30-yard bomb at the end of practice.
Webb said one area of concern was that Eudora doesn't have a true tailback in its arsenal right now with the departure of Ryan Fisher to graduation.
"I want to have somebody I can stick the ball in his hands at least 25 or 35 times a game," Webb said. "And if it's crunch time, we'll ride that horse until he falls over. But this year it's a little different. We've got a lot of good players who can touch it. We have a lot of weapons. Brian Katzfey coming out at wide receiver is a great addition for us. He gives a vertical threat and he's athletic. We can do a lot of stuff with him. Evan Cleveland is another kid who gives you multiple looks formation-wise."
Eudora senior lineman Colton Lynch said he was pleased with the team's performance during camp. Lynch and the other seniors have also been talking to the underclassmen, especially the freshman to help make their transition to high school football as painless as possible.
"Some of the freshman might have to step in and play," Lynch said. "It's rare that they do, but if they do get the call they've got to be ready on Friday night."