Downtown losing businesses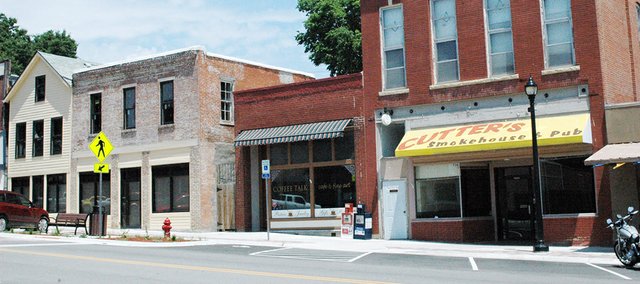 It wasn't supposed to work this way.
The $1.4 million spent on improvements to Main Street between Sixth and 10th streets was supposed to lead to more foot traffic and a more attractive setting that might draw businesses to downtown Eudora.
But in the months since the project has finished, Curves, Cutter's Smokehouse and Coffee Talk have left.
Then, Madame Hatter's Tea Room owner Bonnie Freeland announced last week that she is moving her business to Bonner Springs in July.
Including the empty building at 720 Main St., there will be five vacant buildings on the east side of Main Street.
The owners of Black Lodge Recording Studio, which sits on the western corner of Seventh and Main streets also are selling their building.
The businesses left for reasons ranging from lack of revenue to better business opportunities.
It was the latter for Freeland, who will have more space in her new location at 228 Oak St. in Bonner Springs.
Freeland said the kitchen and dining room in her location on the eastern corner of Seventh and Main streets were too small, and moving to Bonner will allow her to move into a commercial-size kitchen.
That, in turn, would allow her to expand the catering and special events side of her business.
"I can't even open my refrigerator door all of the way, but the new location has a walk-in refrigerator," Freeland said. "It's really hard to run a busy business in this building, space-wise. If you get behind in dishes, there's no place to put them, and when the dining room is full there's no place to walk and move around."
She said she can seat about 50 people now, but her new location will allow her to seat about 72, plus about 12 more on a patio.
A lack of walk-in business also contributed to Freeland's decision to leave, although she said she would miss the people with whom she's developed relationships.
"I feel sad about leaving this area," Freeland said. "I don't want them to feel like I'm abandoning the Downtown Eudora Business Association, because I'm the type of person who sees things through when I start them."
DEBA President Tina Montgomery said she understood that Freeland was doing what was best for her business and that she hoped to see retail businesses fill up the empty buildings.
"Retail is what's going to bring foot traffic and revenue that the city so desperately needs," Montgomery said.
She hoped the impending spike in traffic that likely will come with the Interstate 70 interchange at Tonganoxie would draw businesses to Eudora.
Freeland had been at her location on the corner of Seventh and Main streets for about five years. She began looking for a new location about a year ago and when the word got out, area towns began to recruit her.
"Some of these other towns have economic developers and if they hear you're looking to leave, they come after you," Freeland said.
The Eudora City Council committed $90,000 in the 2009 budget to economic development. Engineering and planning firm Bucher, Willis and Ratliff will conduct studies and site evaluations.
However, the city does not have a full-time position dedicated to recruitment.
"It's terrible that we haven't done enough with our downtown and gotten farther along with our redevelopment that we can't hold on to people," said Heather Noble, who owns Broers Flower Shop, 729 Main St.