Super seasons
Fisher, Ballock named Co-Male Athletes of the Year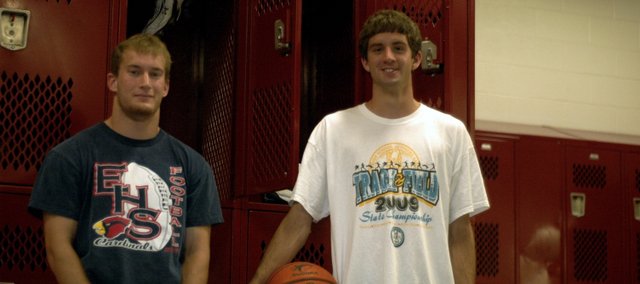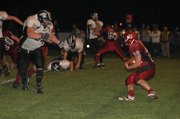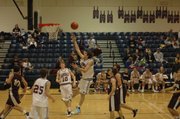 Those who got to watch Ryan Fisher and Justin Ballock play this year, likely knew they were witnessing two of the best male athletes to play for Eudora in a while.
Fisher, senior, carried the Eudora High football team in his hands every game as he sliced through opposing defenses that game planned against him, but still couldn't stop him.
Fisher ran for 1,826 yards and scored 20 touchdowns last fall, including 14 in his final three games. Fisher was a first team all-league pick, and was honorable mention all-state. Fisher also enjoyed a successful track season.
Ballock, junior, led the boys basketball team to 11 wins and averaged 15 points and five rebounds a game. Ballock was a first team all-league pick and often guarded the opposition's best perimeter player on defense.
Ballock also had one of the best track seasons in EHS history. He set the school record in both hurdle events and took home two medals at the state track meet.
Fisher and Ballock have been named The Eudora News' 2008-2009 Co-Male Athletes of the Year.
Fisher carried the ball a whopping 264 times this year for the Cardinals, averaging 33 carries a game. Fisher said he knew before the season started that he'd have to carry the load.
"I had to be in condition for that and prepare for all that," Fisher said.
Fisher had his best two games of the year at home against De Soto and Baldwin on Senior Night. Against De Soto, Fisher ran for 306 yards and scored two touchdowns on 44 carries. Late in the game, Fisher was carrying the Cardinals toward the end zone when he suffered a shoulder injury. Fisher had torn three ligaments and played two weeks later. Against Baldwin, Fisher ran for an unbelievable 443 yards and five touchdowns on 49 carries.
The only game Fisher played in that he didn't run for more than 100 yards was against Gardner. Fisher's speed and toughness made him unstoppable on the gridiron. Even on that bad shoulder, Fisher didn't duck out and head for the sidelines. He headed right for the opponent.
"It's just that mentality of going up the middle and hitting people," Fisher said. "I like doing that stuff. It's fun to me. I don't mind it. I'll do it no matter how big you are, if you're a defensive lineman or a safety."
Eudora football coach Gregg Webb said had Fisher stayed healthy all year, the football team would have made the playoffs, and Fisher would have completely rewrote the record book.
"I have no doubt that he would have set some records that would have never been broken in this town probably," Webb said.
Fisher, who stands about 5-10, isn't overpowering. But Webb said Fisher had willpower that was rarely seen on the football field.
"The thing that he had was his will and determination and strength," Webb said. "He's not a very big kid if you see him just walking around. And he's not real vocal and he's not real assertive. But he had an interior will that not many kids have. He just would not be denied."
Fisher would have played basketball this year, but he had surgery on his shoulder and had limited mobility. Fisher returned for track season and did well in the 100-meter dash and led off the 4x100 relay. The 4x100 relay team fell just short of making it to state for the second year in a row, but Fisher said he enjoyed his senior track campaign.
"I had a lot of fun during track," he said. "We did our best and you can't expect anymore than that."
On the basketball court, Ballock led the Cardinals to a 9-1 start. His ability to attack the rim and hit jumpers inside and outside made it difficult for the opposition to stop. Ballock was also a good free throw and three-point shooter. His team also trusted him in the clutch.
"It makes me feel good that they look for me for leadership," Ballock said. "And in close games, they believed in me to guard the best guy and take the big shot and make the smart decision."
On the track, Ballock completed some unfinished business left over from his sophomore year and broke the school record in both hurdle events.
"My sophomore year, I was close to both of them," Ballock said. "And after basketball I made sure I was getting in shape for the 300-hurdles and wanted to make it strong through the 110 hurdles and I got both of them."
Ballock broke the 110 record with a time of 14.8 and the 300 record with a time of 40.2. Ballock also finished sixth and seventh in the events at state.
"I was used to it a little bit and it didn't phase me as much with all the people there," Ballock said. "I was just ready to go and wanted to run the best race I could and get on the podium twice."
EHS track coach Phil Katzenmeier said Ballock could do even better next year as a senior.
"I think he will improve on those next year and make it a little more difficult for someone to try and break those again" Katzenmeier said.
Though Eudora loses Fisher to graduation, his senior year on the football field likely won't soon be forgotten at EHS. Fisher signed with Fort Scott to play football in the fall, but his body is still beat up from the pounding he took over the years. Fisher said he might take a year off and heal and attend Kansas University in the fall. And Ballock is already preparing for his senior season in basketball.