Cards top Broncs, advance to second round of sub-state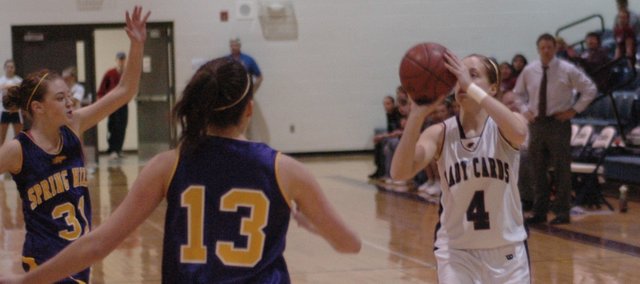 Evan Folks had started a few games for Eudora this season and she got the call again in Eudora's first round sub-state match with Spring Hill Tuesday night at Eudora.
Folks responded in a big way. The junior scored five points, tallied five steals and played a smart game overall, and Eudora won, 51-36.
"It's fun to start," Folks said. "But I also like coming off the bench, too. The game kind of just picked up in energy and it just carried over in our favor."
In the first half, Folks grabbed three rebounds and saved a bad pass from going out of bounds while tight-roping the sideline. The possession ended with a field goal in the paint by Mariah Webb to give Eudora an 11-8 lead near the end of the first quarter.
Folks also was on the floor hustling and had the task of guarding Spring Hill's top perimeter players Jami Hodge and Holly Adams. Hodge scored four points and Adams had seven.
"She's just a good defender, very scrappy and works hard," Luke said.
Eudora also got energy and hustle from freshman Jennifer Bowser and junior Shea Lounsbury. Bowser stole a pass and scored on a layup in the first quarter, and Lounsbury's hustle during the Cardinals' full-court press in the third quarter created turnovers that ultimately led to Eudora field goals.
Eudora led 25-19 at the half, but the Broncos cut the lead to 28-27 with 2:29 to go in the third. Luke called a timeout and Eudora regrouped. On the ensuing possession, Bailey Scott hit a shot from just inside the three-point line. The shot seemed to energize Eudora and it finished the quarter on an 8-2 run and led 36-29 heading into the fourth.
Eudora opened the fourth quarter on an 8-0 run on two field goals by Scott and two field goals by Haley Epperson. Fellow senior Kendal Abel attacked the basket in Eudora's half-court offense all game long and led the team with 14 points while Scott added nine. Scott and Rachel Pyle, who scored six, both hit a three in the game.
"We made some outside shots and that was big for us, especially against their zone," Luke said. "That's really the difference between us and a year ago is that we have the confidence to step up and shoot an outside shot. And we did that tonight."
Spring Hill tried to make a late run, but rebounds by Epperson and Folks prevented that from happening.
"We're excited," Luke said. "And give a lot of credit to Spring Hill. They battled, and we just did enough to pull away from them and separate ourselves from them. I thought we did a good job as a team tonight. I thought we played good team defense and everybody contributed."
Next up for Eudora (14-7) is a second round match against Piper at 7:30 p.m. Friday at Eudora.
"It's going to be tough from here on out," Luke said. "Spring Hill was tough too, but Piper's tough. They've got a good shooting guard, a good point guard and a big girl inside. And they've got some others to go along with that."
Eudora hasn't faced Piper this season, but Folks said the team would be ready for the Pirates. She also said the team would be ready to hustle once again.
"We've been working on hustling," Folks said. "We'll go at it in practice and that's really carried over in the games. So we're all just really playing together and it's clicking right now. Let's hope it plays over to Friday."
More like this story