One and done
Boys fall 56-47 in first round to De Soto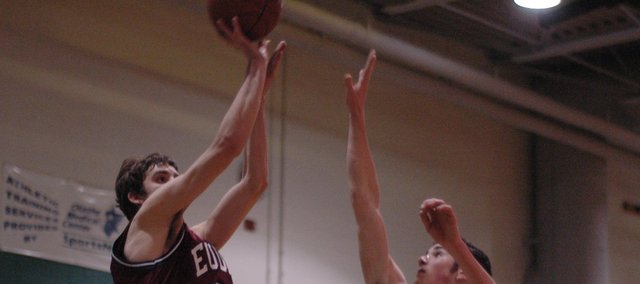 As the stream of Eudora players exited the locker room Monday night at De Soto, red eyes and sad expressions on seniors Zach Bryant and Kyle Swanson's faces told the outcome of the game they had just played.
De Soto had beaten Eudora, 56-47, in the first round of sub-state. Before they left the locker room, Eudora coach Kyle Deterding expressed his gratitude to his team and its seven seniors.
"I just thanked them," Deterding said. "That's the group that I came in with. Off the court they're great kids and I told them thanks for everything they've done off the floor because they're good people and that kind of set the tone for everything on down.
"We had very few problems and, like I told them, I'm more worried about having good people than good players because when you have both, it's a lot of fun. And we had a combination of that. They really did a nice job."
It seemed early on that Eudora had control of the game. The Cardinals jumped out to a quick 7-2 lead on two field goals by senior Michael Bricker and a three-pointer by Swanson. Eudora led 17-13 at the end of the first quarter and went into the locker room leading 26-25 at halftime.
But a three-point third quarter, compared to De Soto's 14, put Eudora in a 39-29 hole heading into the fourth. De Soto's defense, which was energized by the play of 6-foot-6 sophomore Aaron Nutterfield, held Eudora scoreless from the field in the third. Eudora's three points came on three free throws by senior Cody Carlson.
Bricker said Nutterfield and De Soto senior Jamel Townsend were tough to handle down low.
"He's a good shot blocker," Bricker said of Nutterfield. "He got me three or four times. They're pretty good athletes. They get up and down the floor and they'll run with you."
Eudora had a few turnovers in the third quarter, but the Cardinals didn't get stops in the third when they needed to. But Deterding said he was proud of his team's effort.
"We played hard," he said. "The first half we were really battling in there. Even in the third quarter, we just had some empty possessions down there and we didn't take great shots. I mean, defensively they still didn't light the house on fire, but they made three or four threes in the third that spread things out. And we couldn't get over the hump in the fourth."
Eudora fell behind by 14 at 43-29 with 6:37 to play in the fourth and cut the lead to 48-40 with 2:09 to play. But that was as close as the Cardinals would get. Eudora went to a full-court press, but De Soto countered with quick passing to beat the press and scored on easy layups late. Eudora then had to foul and De Soto hit 9-of-12 free throws to ice the game.
Brian Katzfey led Eudora with 12 points, Justin Ballock had 11 and Drew Noble added eight to lead Eudora in scoring. Evan Cleveland scored six, and Carlson and Swanson scored three apiece.
"Senior year, it always (hurts) to lose your last game instead of going to the state tournament," Swanson said. "It's tough for a lot of us."
Swanson said he was proud of his fellow seniors, Bricker, Carlson, Bryan Dudley, Craig Harper, Craig Roberts and Zach Bryant.
"We have a great senior class," Swanson said. "Eudora's never been the most talented group of players, but we work hard. We go in every day, the seniors especially. We work hard and we try to do everything we can to help this team and help this town and represent our team and our town well. We do it on and off the court and in the classroom as well. I'm just so proud of these guys."
Eudora ends it season at 11-10. De Soto advances to the second round of sub-state. The Wildcats (15-6) will play St. James at 7:30 p.m. Thursday in Eudora.
More like this story