New police sergeant enjoys challenges of job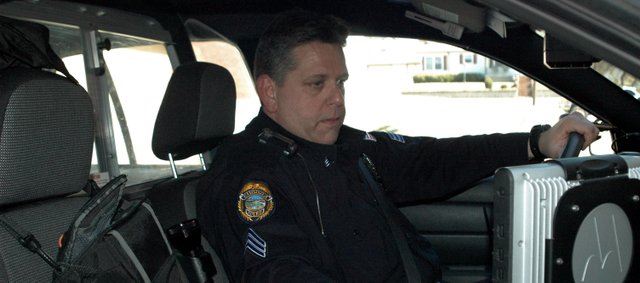 Eudora Police officer Grady Walker needs a challenge. That need is what lead him to leave success as the Douglas County Youth Services assistant director to become corporal with EPD.
As corporal, Walker undertook the task of getting the department technologically up to date. He now continues that task as sergeant, which he was promoted to at the beginning of February.
"What attracted me to take the corporal job and to then become sergeant was we have a department that is on the brink of expansion," Walker said.
Walker had worked in a part-time capacity with the department since 2002 and became a full-time employee in 2007.
While Walker's supervisory background factored into his promotion, Police Chief Greg Dahlem said Walker's technological aptitude influenced his decision to promote him.
"We were so far behind as far as equipment and technology and we're still trying to catch up," Police Chief Greg Dahlem said. "We've made huge strides but we still have a ways to go. Grady's knowledge has been extremely important there."
Walker was instrumental in installing laptops in the cruisers and networking the department's computers, as well as acquiring Tasers, digital video cameras and evidence kits for each cruiser.
Walker hopes to streamline the department by introducing paperless submission programs. Currently, reports are handwritten and brought to the Douglas County Sheriff's office.
He hopes to one day make the department more independent when it comes administrative duties.
"My goal is for us to be a standalone department," he said. "We won't have to rely on other agencies to submit our paperwork and requests."
The evidence kits Walker had put in each car have moved the department a few steps closer to that self-reliance.
"An officer now can go to the scene of a crime and he has all of the basic tools in his vehicle to completely do an investigation, if need be," he said.
In the past, officers had to return to the police station to pick up kits. And both Walker and Dahlem said that in a small department, independence is of utmost importance.
"You have to provide them the tools to do their jobs, and they now have the essential tools to do that," Dahlem said.
And Dahlem's lack of micromanagement lent itself to helping Walker make the strides he has.
"Greg has been instrumental in allowing not untethered reign, but letting you do what you have to do to get things going," Walker said.
While Walker enjoys the uphill battle his job has provided him, his actions would be all for not if they did not ultimately benefit his fellow officers and the people of Eudora.
"I'm driven by the challenges, but I also like working with people — my fellow officers and the public," Walker said. "I like the times when we accomplish something and there's immediate gratification for a job well done — a thank you, or finding the lost property or bringing about justice. That makes it all worthwhile."