Seniors key Cardinals' success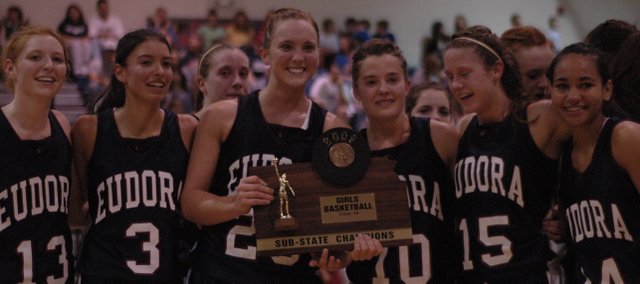 If making it to the state basketball tournament is the best way to end a high school career, six Eudora seniors have earned that shot at history.
"They're awesome kids," Eudora coach Ryan Luke said of his seniors. "I can't say enough about them. That's what's made this so fun for me is that they have an opportunity to play in the state tournament. There are not very many people that can say they've been able to do that. So hopefully, we get to keep it going, and they have more to talk about when it's all said and done."
Luke's senior-led Cardinals will take on No. 2-seed Concordia Thursday in the Class 4A state basketball tournament. Tipoff will be at 3 p.m. at the Bicentennial Center in Salina.
The six seniors complement each other on the basketball court. Senior post player Haley Epperson is Eudora's top player, averaging 14 points and seven rebounds a game. Senior guards BaileyScott and Rachel Pyle give Eudora (16-7) two threats from the perimeter. Senior forwards Mariah Webb and Kendal Abel give the Cardinals energy and hustle, and senior guard Tianna Dunnaway has the job of pushing them during practice.
"It's all about the team," Dunnaway said. "It's a team sport, anything to help the team out. Even if I'm not out there playing, I still try to make practice as good as it is."
Epperson said a key reason for the Cardinals' success was that the players know each other's strengths.
"I think that makes us such a great team," Epperson said. "When we combine everything together, it really works out."
The last two years, the Eudora girls advanced to the sub-state title game and lost both times. But Eudora's 42-25 win over St. James Academy in the sub-state final last Saturday at Eudora erased those memories. Now the girls have an opportunity to make new memories at state.
"We're just going to have to play our toughest," Webb said. "We're just going to have to go out there and play scrappy and just try our best."
"Scrappy" is how the Eudora girls play basketball. It is a word that the players and coaches say a lot. The squad may not be loaded with great athletes, but it's a team of hard workers led by its six seniors.
"I've never a coached a group like them as far as their dedication and their willingness to do what I ask them every day," Luke said. "So I really appreciate them."
And Luke added that the group's selflessness on the court was just one of the reasons the No. 7-seed Cardinals could play on Friday and Saturday as well.
"Everybody has their job, and I think they understand that and they really play together," Luke said. "I think they've really been playing together as of late. So if they continue to do that, we can have a fun weekend."
More like this story