Cards earn Senior Night split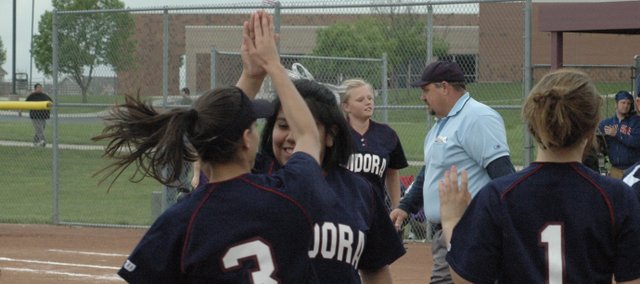 Photo Gallery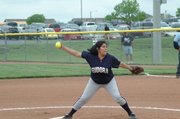 Eudora softball vs. Baldwin
Eudora seniors Bailey Scott and Miranda Cobell didn't walk of the wet field with a victory in the second game of the Senior Night doubleheader against Baldwin Tuesday, but they did so in the opener.
Eudora beat Baldwin, 7-4, in the first game, and dropped the nightcap 12-7 to earn a split with its rival.
Cobell started the first game, and Baldwin scored twice in the first inning. The Cardinals, though, soon erased that deficit in the bottom half of the inning by scoring four runs. Scott led off with a single and later scored the Cardinals' first run.
"She's always been our leadoff," Eudora coach Cara Kimberlin said of Scott who has started for four years. "She's a very consistent player, a very quiet player. She does exactly what you ask. She doesn't have a lot to say, but she's a good ball player."
Evan Folks, Madison Oller and Mallory Reese hit RBI singles, and Stephanie Orth hit a two-run double in the first. The Cardinals had some miscues in the field early, but also turned in a few sparkling plays, including Scott catching a screaming line-drive late in the game and Chelsea Grammer making a nice catch in center field.
Cobell settled down after the second inning and pitched well the rest of the way. Baldwin totaled 10 hits in the first game and struck out just once, but Cobell battled through and pitched out of bases loaded jams in the fourth and fifth innings without giving up a run to get her fifth win of the year.
"Miranda definitely picked us up," Scott said. "She is the leader of the team, and we try to help her out as much as we can."
Folks started the second game, and Eudora raced out to a six-run lead, thanks in part to three Baldwin errors in the first inning. But Baldwin scored 12 unanswered runs to knock the Cardinals of the game. Cobell replaced Folks in the second inning, and didn't throw badly, but Eudora committed several errors and threw the ball all over the diamond, which led to several Baldwin runners advancing 60 feet.
"We just made defensive and mental mistakes to put runners on, and you can't do that against a team like that because the top part of their order hits the ball well," Kimberlin said.
Kimberlin replaced Cobell in the seventh and gave her some words of encouragement and told her she needed to be ready to pitch again Thursday. Cobell, who spent her first two years playing on the junior varsity team, recently signed a letter of intent to play softball next year at Haskell University.
"She has been a good surprise for us the last couple years," Kimberlin said. "Honestly, her first couple years, we weren't real sure if she was going to be a varsity pitcher. But she's stepped up and done a great job for us."
Though Senior Night festivities took place between games, the Cardinals (8-5) will play another home game Thursday against Ottawa in a makeup game that was previously rained out.