Softball in late-season swoon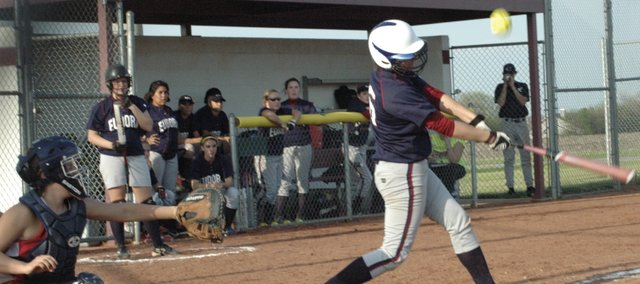 The Eudora Cardinals seem to be mired in a late-season swoon that they just can't break out of.
Eudora was swept by Ottawa last Thursday night, and then split a doubleheader with St. James Saturday. The Cardinals then, after dropping Game One of Monday night's road doubleheader against De Soto 12-2, held a five run lead in the sixth inning of the second game, but De Soto rallied for five runs in the sixth and scored one more in the seventh to complete the sweep of the Cardinals.
Eudora has played this season with just two seniors, and is still a very young team. That inexperience has showed at times this season and did so again in Monday night's opener. Mistakes in the opener led Eudora coach Cara Kimberlin to change her lineup around for the second game and several underclassmen started.
"The first game defensively, we just didn't make routine plays," Kimberlin said. "I don't commonly do that, but I thought maybe I could send a message home. And some of the kids I replaced probably weren't kids that made mistakes, but I told them before that game was over that I had a squad of freshman ready to go. So why not throw them in the fire and see what happens?"
Eudora freshman Kate Dennis started the second game and threw well, going 5 2/3 innings. Eudora gave its rookie pitcher an early two-run lead, and in the sixth, Eudora scored three runs via an error, an RBI single by Bailey Scott that scored Chelsea Grammer and another run on an RBI double by Evan Folks.
Then De Soto began to comeback.
Two Eudora errors, a passed ball, a single and a run frazzled the young starter, and Kimberlin inserted senior Miranda Cobell with two outs and the bases loaded. Cobell has pitched out of bases loaded jams a few times this season but couldn't repeat one of those performances, as De Soto laced a three-run double to cut the Eudora lead to one.
In the seventh, De Soto loaded the bases with no outs, but Cobell battled back and retired the next two batters on a strikeout and a popup to third. With a full count, De Soto's Katie Williams, who started both games of the doubleheader, hit a double to deep right-center to score the winning run.
"Kate threw a great game," Kimberlin said. "I thought we could put Miranda in there and get maybe a change of speed and shut them down the last two innings, but that wasn't the case. That sixth inning, we had players where they weren't supposed to be on outs."
In that pivotal sixth inning, the game was delayed for a few minutes when third baseman Mallory Reese took a hard relay throw from a just few feet away right below the kneecap.
After the game Reese had a big bruise below her knee, but Kimberlin said she could be ready to play when Eudora (9-11) plays its first regional game Monday at Eudora. Eudora is the No. 4 seed and will play K.C. Sumner at 4:30 p.m. The softball regional will be at Eudora.