Diploma a lifelong goal for Eudoran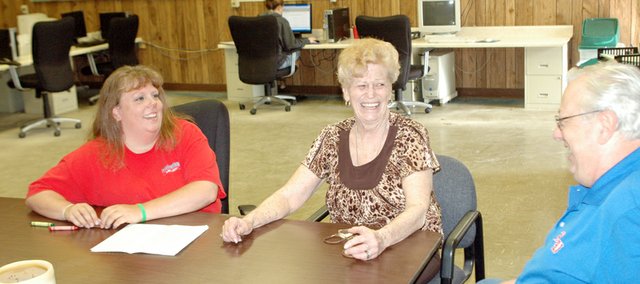 When Sherry Lawrence receives her high school diploma Friday night at the Eudora Community Learning Center graduation ceremony, she will be living the advice she had long been doling out to others.
Lawrence, who said she was in her 60s but declined to give her exact age, always touted the benefits of education to her four children, six grandchildren and seven great grandchildren, not to mention the 83 children she has watched at her daycare during the last 32 years.
However, she dropped out of high school halfway through her junior year.
"When I had my daycare, I would always tell the kids that school was the most important thing and I thought, 'you're telling them this, so why don't you go back,'" Lawrence said.
Lawrence said she had thought about returning to school for several years, but health problems prevented her from doing so. Then one day in 2006, she said she woke up and called her former high school in Marion, Ind., and asked for her transcripts so she could return to school.
"I didn't hesitate, because I figured if I did I would chicken out," she said.
Lawrence's husband, Norm, and other family members encouraged her and she began her first set of lessons.
Students enrolled at Eudora USD 491's Community Learning Center have completely withdrawn from traditional classes because they are unable to attend for one reason or another. They take self-paced classes on computers at the center in the old Eudora Middle School.
Lawrence said learning center coordinator Angie Miller provided key support helping overcome what was an initially difficult re-entry to the world of learning.
"A lot of it came back to me, and I really enjoyed it," Lawrence said. "And Angie is fantastic. She encourages you even if you feel like you're not doing good job."
Miller said she realized that Lawrence was a bit apprehensive at first, but that as she progressed through the lessons her self-confidence increased.
"She just needed a little push, and it's wonderful and I'm so happy that she's going to finish," Miller said. "She's definitely up there with the memorable students because she's accomplished this amazing goal."
Miller wasn't the only one who helped Lawrence.
Lawrence had trouble reading text on computer screens, so Norm increased the text size. When it came time to do an assignment about space, she asked Norm's sister, who works for NASA, for help; and she asked her daughter, who is an artist, for help on an art assignment.
Lawrence said she hoped to continue learning. She will retire from the daycare business May 22, and she and Norm hoped to buy a camper and visit some of the places she learned about in her studies.
She also plans to write her life story.
"I feel like in life, you have to set goals," Lawrence said. "I'm the type of person where if I start out to do something, I want to accomplish it no matter how long it takes me.
I also wanted to show my children, my grandchildren and my great grandchildren that school is a very important part of their life."
Lawrence also has invited all 83 of her past and present daycare charges to the graduation ceremony
Holly Kracl, who took her children to Lawrence's house for nearly 12 years, said her family would attend the ceremony.
"It's important for us to support her and say thank you for all of the years she put off doing it (returning to school) because she was taking care of our kids," she said.
Holly's 23-year-old daughter Lauren Kracl recalled with fondness the time she spent at the home of Sherry and Norm Lawrence — called "mama" and "papa" by the children attending their daycare.
"Something that had to do with education was incorporated into every day," she said. "It wasn't just a daycare where you went and watched T.V.
"I'm proud of her. She's probably the most wonderful person I've ever met in my life."
The CLC graduation ceremony will be at 7 p.m. Friday in the Eudora Middle School Auditorium. Cookies and punch will be served after diplomas are distributed.