Eudora
CLC

celebrates largest graduating class to date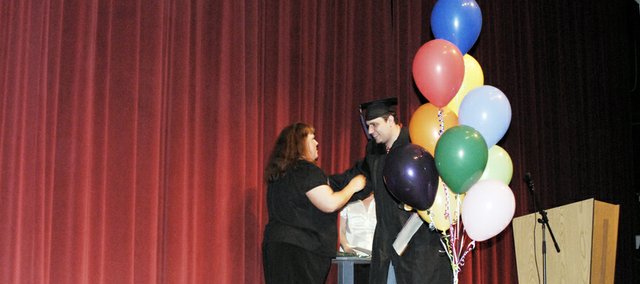 The Eudora Community Learning Center celebrated its largest graduating class ever during a commencement ceremony Friday night.
Eudoran Waylon Ziesenis, 28, was one of the record 20 students who received high school diplomas. He said he went back to school to set a positive example for his three young children.
"I wanted to let them know that finishing is important," Ziesenis said.
Students who attend the CLC have completely withdrawn from traditional classes because they are unable to attend for one reason or another. However, each of them still wishes to graduate high school.
They take self-paced classes on computers at home or at the CLC facility, which located in the building that once was Eudora Middle School.
The process took Ziesenis about 18 months. He said CLC coordinator Angie Miller helped keep him on track when everyday life intruded on the process.
"You can just sit back and you get busy and things happen," he said. "You think you'll get to it (assignments) and you never do, but she calls you and says, 'Hey, let's get going.'"
The class of 2009 was will be especially memorable for Miller, as it included her oldest graduate — Sherry Lawrence, who is in her 60s — and the largest graduate class.
Miller said she made a point of celebrating the students' achievement with all the accoutrements of traditional graduation ceremony.
"I make it absolutely the same way it would be if they were in public school," Miller said. "Every person who graduates needs to go through that experience so they can be proud of all the work that they did."
Ziesenis encouraged others who were thinking about going back to get their high school diploma to do so.
"It's more important to do than not to do it, so don't let anything stop you," he said.