5 Questions: Pedestrian committee hopes to construct bridge over K-10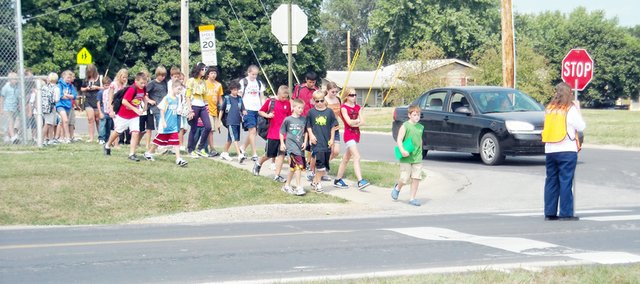 Members of the Eudora Pedestrian Committee presented information to the Eudora City Council Wednesday night regarding a pedestrian bridge over Kansas Highway 10.
John Drees, coordinator for Safe Kids Douglas County, talked about the need for the bridge.
Q: When and why was the pedestrian committee formed?
A: About 18 months ago, Marty Kobza called me and said he would like to form a committee to improve transportation around Eudora. I told him that he had to get several people, such as the police and fire departments and EMS involved. And then I came to Eudora and he had all of those stakeholders at the meeting.
Q: What are some of the committee's goals?
A: We're looking at the future, and last year when gas cost $5 that forced people to walk and use different forms of transportation. Kids are being driven to school but if prices go up again, they're going to walk and there aren't many safe places in Eudora to do that.
Q: Why is a bridge needed over K-10?
A: For safety reasons now, but it will be needed more in the future as people move more toward using bikes. It is needed for health and fitness reasons, as well.
Q: What would the cost of such a bridge be?
A: About $891,496. We would seek transportation enhancement grants to pay for 80 percent of that. Design costs would be around $200,000, which is what the city would pay for. However, we are in the initial stages of planning so those numbers are rough estimations
Q: How can someone join the committee?
A: It is an open committee and we meet at 7 p.m. the first Thursday of every month in the Eudora Middle School Library. They can go to www.besafeeudora.org for more information