Muscle of spirited volunteers saves church about $1 million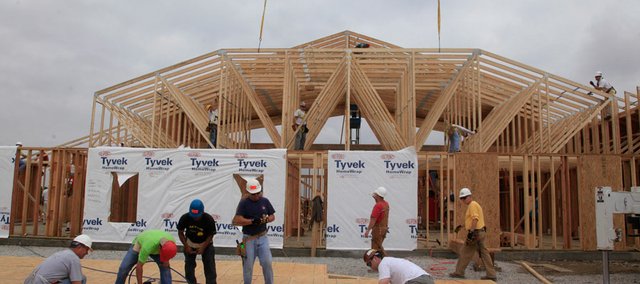 During the next 16 weeks, the scene just south of Kansas Highway 10 in Eudora will closely resemble an early 20th century scene.
Members of the Baptist community nationwide are coming together for an old-fashioned church raising.
Several years ago, members of Eudora Baptist Church noticed that space was getting tight, and construction of a new church looked to be the only solution.
"We thought we should find some volunteers to help in the process," Pastor Kevin Wood said.
In a search for willing participants, church leaders discovered the work of Baptist Builders for Christ, a nationwide organization that has built 50 churches in 29 years with the help of nearly 1,000 volunteers on each job.
"The simplest way I can express that, this is my spiritual hobby, this is what we do," said Lawrence Corley, project coordinator for Builders for Christ.
Under Corley's direction, 28 buildings have been raised since 1981. He says building churches like the one in Eudora is God's work. It's hard work, too.
"These people really come because God has asked them to get something like this done for him, so they leave their vocations, their families their grandchildren and just come to serve God for a week," Corley said.
Nearly 900 volunteers will flock to Eudora during the next four months to help build the new church. And not one is a professional builder.
"I am a critical care nurse in a cardiac unit, but this is a hobby of mine," said Karen Smith, Birmingham, Ala. "I am teaching ladies how to drive in a nail, make a 'T,' make a 20-foot wall and sheet it, and so it's kind of nice for us to start doing something like that."
The Eudora Baptist Church congregation is urged to stay on the sidelines during this expansive construction effort. However, once the Builders for Christ teams are gone, plenty of work will remain.
The volunteer effort is also financially impressive. A typical building the size of the church in Eudora can cost in excess of $2 million. However, because of volunteers, this church is expected to cost about $1 million less.
"We plan to keep helping churches that are trying to grow that need labor," said Craig Tindall, a mortgage banker from Birmingham, Ala. "It's really a labor of love."