Young volleyball team endures up-and-down season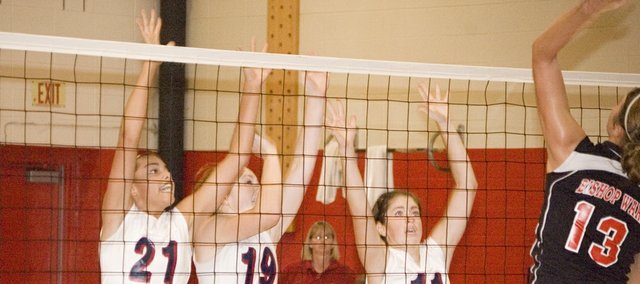 The 2009 Eudora volleyball season was an up-and-down roller coaster that started fast and slowed late.
Despite having just three seniors, the Cardinals started the year strong but finished with a record of 16-19. But a rash of injuries and illness during the last month of the season put the Cardinals in a late-season slump.
"We knew we'd go into the season being young, and we were," coach Jill Stutler said. "And we made some silly mistakes, but all in all, the kids fought on a daily basis. And we just ask them to give everything they have every day. "
After beating a talented Ottawa squad on Senior Night, the Cardinals later met the Cyclones again in the first round of sub-state. The Cardinals fell in a three-set heartbreaker.
Though the Cardinals were short-handed at the end of the year, they battled each match. And even though the outcome wasn't what they hoped for, there were good reasons for the late swoon.
"I think it was a combination of things," Stutler said. "It was tougher this year because we didn't get an opportunity to get a consistent lineup between kids getting sick and being hurt. But this group no matter what lineup was out there, they adjusted, they played, that's all we can ask for."
Eudora's three seniors, Shea Lounsbury, Alex Mott and Abby Mott, gave the team solid leadership and hustle on the court. And as freshman in 2006 they helped Eudora win the state title.
Eudora also had several underclassmen play varsity, including Katelyn Abel, Morgan Wiley, Madison Maring, Annie Beck, and Victoria Lehmann.
Eudora also played this year with just three juniors on the roster in Allie Johnson, Hannah Katzenmeier and Taylor Noble. So the Cardinals will be young again next year, but Stutler said her youngsters would adjust well to the varsity game.

"We've got some youth coming up," Stutler said. "We had a lot of kids get some varsity experience that we were not expecting to, but we need that. They need to understand what the tempo of the game is like at the varsity level. It's much faster than they see anywhere else."