Space not a concern in new Baptist church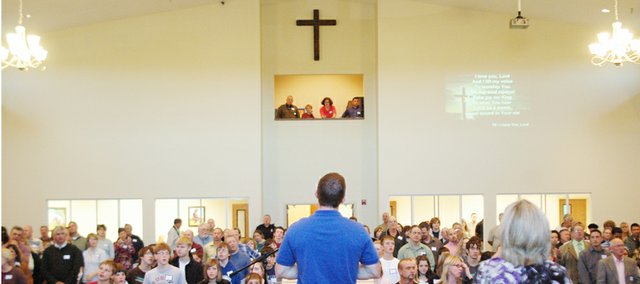 As Jeff Ingle began to lead the Eudora Baptist Church congregation in the first worship service in its new building Sunday morning, he was taken aback by the nearly 300 faces he saw.
"I thought we'd have just over 200," Ingle said. "I was just in awe, and it's shocking. It's surreal. We just had our first worship service, and we get to be here next week, too."
Construction for the new building began in late May and moved quickly with the help of about 900 volunteers with Baptist Builders for Christ, a nationwide group of amateur builders who volunteer to build Baptist churches.
Construction of the 12,000-square-foot building located at 525 W. 20th
St. moved so quickly that a common saying during the construction was, "God has a plan for this building, and he must be in a hurry."
"The thing that really could create some disbelief is the fact that we started this thing at the end of May," Pastor Kevin Wood said. "It's not even been five months from dirt to this, and it's pretty remarkable that it's gone that quickly."
Wood also said the building could've been ready even sooner, but the ground was too wet to cover the parking lot with asphalt.
The new sanctuary is five times as big as the previous sanctuary, which only had room for about 200 people. Wood said its low ceilings didn't give them the feeling of space that was felt in the new building.
"We were just packed in the other sanctuary," Wood said. "We had come to the point in our old sanctuary where we were tearing down walls adjacent to the sanctuary (to make room)."
The new building also will allow the church to increase its outreach ministries.
"We have this conviction that our church, and not our church alone, is called to reach this community," Wood said. "We bear the responsibility to share the Gospel with every person. If you can't fit them into the building, there's a problem."
Though Sunday was the church's first service in the new building, the building will be dedicated during the 10:15 a.m. worship service this Sunday. Wood said he expected about 300 people, and the church had invited all of the 900 or so volunteers from Baptist Builders for Christ. There also will be a lunch following the service.