Folks to play softball at Iowa State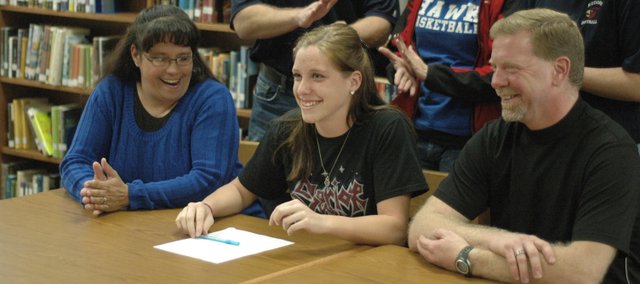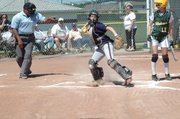 Eudora senior Evan Folks has spent the past three years as a leader behind the plate for the EHS softball team. And next year she will look to do the same for the Iowa State Cyclones.
Folks, a three-time All-State selection at catcher for the Cardinals, signed a letter of intent Friday with Iowa State. Folks was recruited by several schools, but said when Iowa State showed interest, the decision was easy.
"When Iowa State jumped into the picture, I was pretty set on that," said Folks, who verbally committed to the Cyclones in June.
Folks will likely get the opportunity to play as a freshman.
"They said I'd probably slide right into the catching spot," Folks said.
As a junior last year for the Cardinals, Folks hit .410 and led the team in hits (25), doubles (10), and walks (10). Folks also stole 19 bases and pitched 30 innings for the Cardinals. On the mound, she went 4-3 with a 5.08 ERA and held opponents to a .216 average. But Folks is best known for her ability to throw out runners on the bases, if they test her arm, that is.
"She's just a great kid, has great skill, and is a great team leader," Eudora softball coach Ty Pattison said. "She's like another coach and having her in that catcher's position is really important because of her leadership abilities and knowledge."
Folks also is versatile enough to play any position on the field in college, Pattison said.
"She'll be a great person there and a great teammate for them," Pattison said. "And I just hope that some of the things that we did teach her – and she's taught us, too, because she's been playing all of her life – I hope she'll take some of the things that she's done here at Eudora with us and pass that on."
Folks will play basketball this winter for the Cardinals before returning to the softball field in the spring.