Wrestlers ready for season challenges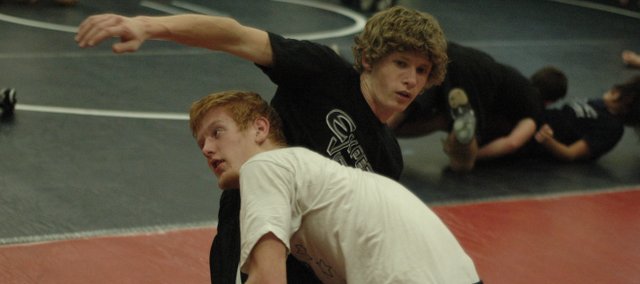 The Eudora wrestling team started practice a little late, as the football team went deep into the playoffs. But first-year wrestling head coach Jason Tharp, who also coached the offensive line for the football team, isn't complaining.
"Anytime you go that deep and you're starting wrestling kind of late, you can't be too unhappy," Tharp said.
This year's team returns a veteran group, and Tharp said that would help the team speed up its reacclimation to the sport during the first two weeks of practice.
"The good thing is a lot of guys who are going to be in the varsity lineup have a solid foundation already," Tharp said. "So just getting them back and getting their legs underneath them is tough. Because it's a different kind of flexibility and strength and endurance that you need for wrestling that these guys haven't got in football or soccer or something like that."
Eudora returns four state qualifiers from last year in Cody Salzman, Boomer Mays, Caleb Clayton-Molby and Thomas McLees. Tharp said they could put points on the board, and also help the younger kids at the same time.
"We're really fortunate to have all four state qualifiers back," Tharp said. "And with the kind of leadership they can show, they can do a lot of good things to help the younger guys on this team achieve some of their goals."
Tharp said some of the early-season challenges would be keeping the team fresh during the long season.

"The thing about the winter season — and especially wrestling because it's a different kind of sport — is it's so long," Tharp said. "And keeping the practices up tempo and keeping them fresh for the entire four months is a challenge. So we're trying to not go in here and wear them all down to nothing the first three or four weeks of practice so we can continually keep getting better throughout the season. And hopefully in league, regionals and state, that's the time we're wrestling our best."
Eudora opens the season Dec. 1 at Santa Fe Trail. It also will be the first time former wrestling coach Bill DeWitt won't be at ringside.

"We've got a bunch of great kids and that makes all the difference in the world," Tharp said. "And there are a few changes that DeWitt didn't do or DeWitt did that I don't do. And they're adjusting really well to that. It seems as though they're all on board and ready to get after it."