Cards fall to Louisburg 28-14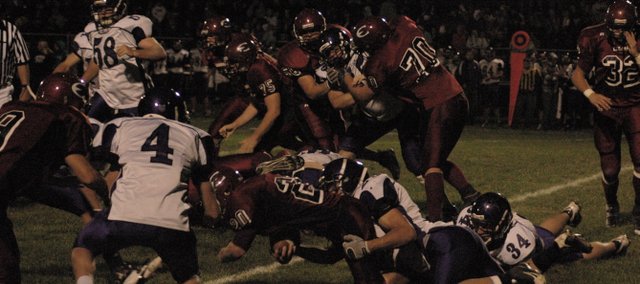 It seemed the Eudora Cardinals were just inches short.
Trailing by six with less than four minutes to play against Louisburg, on a crucial fourth-down and six from Eudora's 32-yard line, Eudora quarterback Evan Cleveland followed blocks by left guard and tackle Alex Cox and Jonathan Morrison on a sweep. Cleveland, the Eudora bench and homecoming crowd cheered in anticipation of a first-down signal from the officials. But that call never came, and after a spot and measurement, Eudora was just inches short, and Louisburg took over on downs.
Louisburg's Alex Gentges then broke through the Eudora defense for a 24-yard touchdown, and Eudora fell, 28-14, Friday at Laws Field.
After forcing a Louisburg punt to start the contest, the Cardinals scored on their opening possession of the game on a Chris Pyle 10-yard burst up the middle. But Gentges added two touchdowns in the second quarter. Just before halftime, Eudora's Christian Richardson took a reverse to the right and threw a deep ball to receiver Brian Katzfey, who had a step on the defensive back. But the ball bounced just off his fingertips, and the Cardinals trailed 14-7 at the break.
Louisburg bumped its lead to 13 on a 12-play 87-yard drive that culminated in a Ryan Roberts 11-yard touchdown run, before Cleveland pulled Eudora to within a touchdown on an 11-yard run early in the fourth. Eudora forced Louisburg to punt on the ensuing possession, but Eudora couldn't complete the comeback.
Cleveland led Eudora with 64 yards rushing on 21 carries, while Gentges ran for 119 yards on 11 carries and scored three touchdowns for Louisburg. Eudora totaled just six first downs and 191 total yards in the contest.
For more on this story read Thursday's Eudora News.
Score by quarters
1 2 3 4 F
Louisburg 0 14 6 8 28
Eudora 7 0 0 7 14
Scoring Summary
E – Chris Pyle 10 run (Matt Jump kick) 5;01.
L – Alex Gentges 24 run (Chris Cook kick) 11:00.
L—Gentges 44 run (Cook kick) 7:39.
L – Ryan Roberts 11 run (kick no good) 3:07.
E – Evan Cleveland 11 run (Jump kick) 10:56.
L – Gentges 24 run (conversion good) 2:05.