Espinosa 1st, Cards 6th at Gardner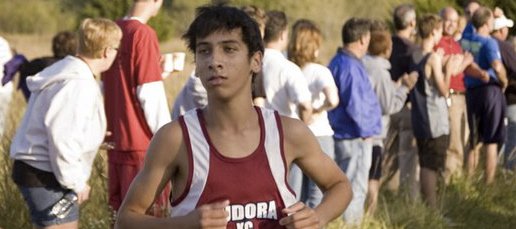 Surprisingly, Eudora's No. 1 runner Ivan Espinosa had never crossed the finish line first before at a cross country meet. But that changed Thursday at Gardner.
Eudora's junior runner and 2008 state qualifier ran a sparkling 17:44 and took home first-place at the 5K event on a difficult course that featured narrow running lanes and tight curves.
"He's learned to really perfect his style as far as keeping guys in contact and then chasing them down, and he did a nice job of that," Eudora cross country coach Paul Boone said. "He didn't let guys get out too far on him, and he just pulled them back in. This is a course you really just race on. It's not a time trial for sure. And he handled it well."
Espinosa was patient at the start and made adjustments accordingly.
"He's just learned to take his time early and try to run negative splits, run that second half faster than the first," Boone said. "He made a good adjustment this race of not letting guys get too far out on him because it's real easy with these curves to get out of sight."
The rest of the boys team also had a good showing, and the Cardinals finished sixth overall at the meet. Kyle Snow finished 12th at 18:47, Timothy Borger finished 27th at 19:13, Colin Forsberg 41st at 21:22, John Samrow 42nd at 21:27 and Keenan Wood finished 50th with a time of 22:55.
"They showed good improvement," Boone said. "You kind of realize the courses you are running on, and you look at that in terms of what you improve. But these guys have improved a lot. They're competitive."
For the girls, Kaya Riemann paced the Cardinals with a seventh-place finish at 18:01.
"She's run well here in the past and she did it again this year," Boone said. "I was happy for her."
Amalie Thomsen finished 20th at 18:58, Whitney Weld 26th at 19:50, Fernanda Garcia 33rd at 20:18, Bria Carder 41st at 21:23, McKenzie Oller ran a 21:39 and finished 43rd and Hannah Pittman finished 50th at 23:20. The girls also finished sixth.
"We had a good week of work, and we did a nice job of coming out and racing," Boone said. "So we're pleased with the meet and looking forward to the next meet."
Eudora's next meet is the Frontier League meet Oct. 8 at Rim Rock.
"These are the times to give kids a little more confidence in their training," Boone said. "It's a pretty hilly course at Rim Rock."