New direction found at economic development workshop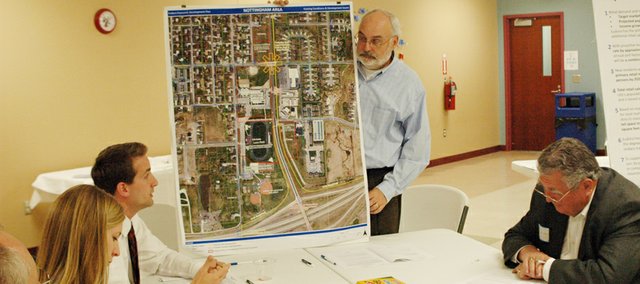 Let's not spend time trying to be what we're not. But instead, let's publicize the positive characteristics that already exist.
The conclusion was an epiphany for community members who attended a Sept. 30 economic development workshop facilitated by planning and engineering firm Bucher, Willis and Ratliff.
The workshop was part of the city's $88,800 economic development plan that has included site assessments and retail market assessments.
BWR's Shawn Strate and Scott Michie, as well as Richard Caplan, of Caplan Consulting, began the meeting by talking with about 20 community members, including various city and school district officials and business owners.
They told the group about a 2005 retail market study that found Eudora to have the lowest pull factor of seven area cities. Pull factors measure the retail sales that a city attracts from other areas, or in Eudora's case, retail sales lost to other areas.
A pull factor above 1.00 indicates that a city is attracting business, while a pull factor below 1.00 indicates that a city is losing business.
The seven cities of Bonner Springs, Ottawa, Lawrence, Tonganoxie, Baldwin City, De Soto and Eudora were examined. Eudora finished last with a pull factor of .33. Bonner Springs had a 1.79, followed by Ottawa at 1.38, Lawrence at 1.11, Tonganoxie at .91, Baldwin at .61 and De Soto at .39.
Community members also were told about a 2008 retail sales leakage study, which identified retail categories in which Eudora was losing sales.
It was suggested that Eudora try to establish businesses within categories with the most leakage. Categories with the most leakage were general merchandise; motor vehicle and parts dealers; grocery and beverage stores; and food and drinking establishments.
While it was clear that Eudora needs more businesses in just about every industry, some at the meeting felt it was just as important to support existing businesses.
"I'm all for businesses and bringing in tax dollars because it is needed for the city's survival, but we also need to look at ways to keep these (existing) businesses here," Eudora Police Chief Greg Dahlem said, referring to the recent announcement that Durkin's Hardware would be closing its doors by the end of October.
As many as five businesses have left Eudora in the last year.
Caplan said it would to take a group effort from the city, the Eudora Chamber of Commerce, businesses and Eudora residents to affect change positive enough to improve the city's ability to retain businesses.
He also noted that the economic downturn likely had a negative effect upon the businesses.
The group then discussed at their respective tables what they would like to see done in the three areas being looked at for future development: Downtown; the area of Nottingham Community Learning Center and Laws Field; and East 10th Street.
In downtown, there is a need for more niche-based stores, though it shouldn't try to be a downtown Lawrence. The group also agreed that truck traffic coming from the 1-70 interchange at Tonganoxie should be made to bypass the downtown area.
In the Nottingham area, the groups agreed that they didn't want just a large strip mall, but would also like to see some of the area be preserved. It should also be a more welcoming gateway to Eudora.
In the area of East 10th Street, the group said more businesses should be recruited to Intech Businesses Park and that 10th Street should be widened.
And, as always, more sidewalks are needed in all three of the areas.
After the discussion, the group was in agreement with a sentiment from Eudora City Council President Maria Nelson that Eudora should begin to brand its excellent school district and convenient location between Lawrence and Kansas City.