Soccer making big strides against top league teams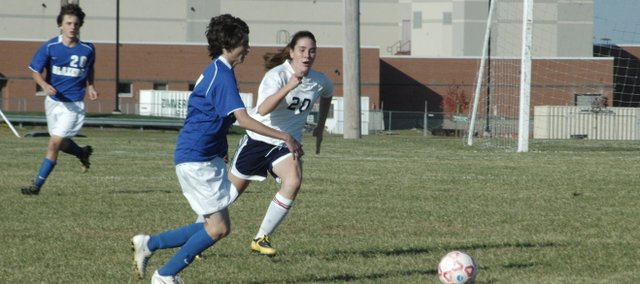 Sure, the Eudora soccer team would like to have more wins this year.
But judging by its recent string of strong performances against some of the top teams in the league, those wins will eventually come to the program.
"We're coming together," Eudora soccer coach Gunar Harmon said. "Against the teams we're supposed to be competing with, we're doing better. We're in it to win it. And against teams that we're facing more of an uphill battle, we're playing much better with."
Against Gardner Monday at Eudora, the Cardinals battled their 5A opponent to the wire. Though the Cardinals lost 3-0, Eudora played well and had several opportunities to score goals, but just barely missed.
Gardner scored a goal about eight minutes into the contest, and Eudora countered with three drives into the box but just couldn't find the net. Eudora played solid defensively the rest of the half, but Gardner scored another goal with five minutes left in the half on an unlucky bounce.
On a cross, Eudora goalkeeper Michael-Shayne Baxter made a lunging save to his right. But the ball bounced off his hands and rolled away to a Gardner player who had a clear shot at the goal. He kicked it in, and the Cardinals trailed 2-0 at the half.
"We played into the wind, Baxter makes a great save, and they put in the rebound," Harmon said.
In the second half, Eudora had the wind at its back, and Matt Jump, Daniel Brauda and Anyssa Mays pushed the ball up the middle and on the edge. But again Eudora couldn't get a shot to go in.
Eudora had an opportunity to cut the score to 2-1 on a penalty kick about 15 minutes into the half, but Jump's shot was blocked.
"We get a penalty kick call, you don't know if the momentum would have turned on that goal," Harmon said. "At 2-1 that might have been a different game, especially with the wind at our back. We pushed and we pushed. I'm quite happy with the effort we played today."
Gardner scored its final goal with six minutes remaining, effectively ending a Eudora comeback. But after falling to Gardner 8-1 earlier in the year, and battling De Soto to a 3-0 game a few weeks ago, Harmon is seeing progress.

"It is looking up going forward," he said. "We've got a young group coming through."
Eudora's game Tuesday at Baldwin was cancelled because of lightning. The Cardinals will close out the regular season Thursday at Perry and begin regionals next week.