Opening act
Katzfey shines in debut, Cards buck Broncs 28-0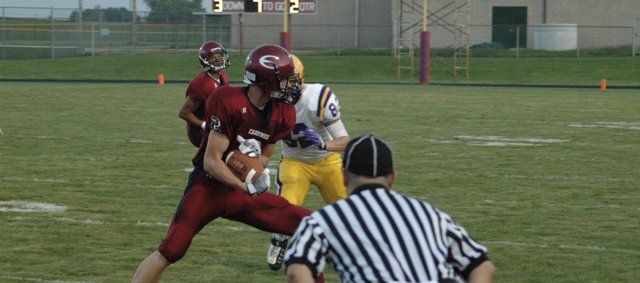 Photo Gallery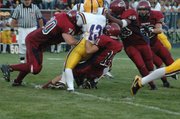 Eudora football vs. Spring Hill
Eudora High fans have seen Brian Katzfey star on the basketball court and track many times before. But for the first time they got to watch him play football on Friday night at Laws Field. And Katzfey didn't disappoint.
Katzfey, who is a senior and is out for football for the first time this year, wowed the crowd in his football debut, touching the ball four times for 87 total yards in Eudora's 28-0 season opening win over Spring Hill.
"I'm patting myself on the back for getting him out here," Eudora football coach Gregg Webb said. "He does a good job. I knew when he decided to do it that he'd help us and he has so far."
The 6-foot-3, 168-pound Katzfey showed his combination of speed and leaping ability on offense as he ran open in the secondary most of the night. Katzfey had three catches for 53 yards and also rushed once for 32 yards on a reverse in the third quarter.
Katzfey also started at cornerback and wasn't scared of contact at all, as he had two big hits on defense. He also had a nice block on an Evan Cleveland punt return. Katzfey said he had a few butterflies prior to the game, but those didn't last long.
"The nerves settled down after I caught a pass and made a tackle," Katzfey said.
In a reversal of the usual Eudora running attack, the Cardinals aired it out during most of the first half. Cleveland and fellow senior Drew Noble split time at quarterback and combined to hit on 7-of-10 passes for 104 yards in the first half. Noble also connected with receiver Christian Richardson on a 15-yard catch-and-run touchdown pass. Eudora quarterbacks finished the night 8-for-16 for 136 yards and one touchdown and one interception.
"For what they were giving us, we had to throw it," Webb said. "It was just too easy."
Eudora's ground game also racked up 238 yards of offense in the contest, most of that coming in the second half. Cleveland had 14 carries for 83 yards and a touchdown, and Boomer Mays ran 13 times for 62 yards and scored two touchdowns. Eudora's backs had big holes to run through, thanks in large part to several big blocks by Matt Schultz, Colton Lynch and Dylan Litherland.
"We'll do whatever it takes," Webb said. "And we could have thrown in the second half, but there was just no need. We need to run the clock. And we were all right. We weren't great.
"Defensively getting a shutout was nice. After last year giving up 42 points a game, that's nice to see that we can shut somebody out."
Spring Hill only threatened to score twice, once coming early in the second quarter and on the final drive of the first half. The Broncos drove to the Eudora 30-yard line and shifty quarterback Jordan Miller rolled out and scrambled to buy more time for a Hail Mary attempt, but he was sacked by Eudora defensive end Coulter Vestal on the final play of the quarter.
"That was the difference," Webb said. "We finished plays. The Miller kid's a good kid. He's elusive. We're scrambling all over the place chasing him, but we did all right."
Next up for Eudora (1-0) is a road contest Friday night at De Soto.
More like this story