Bert Nash partners with
USD

491 through grant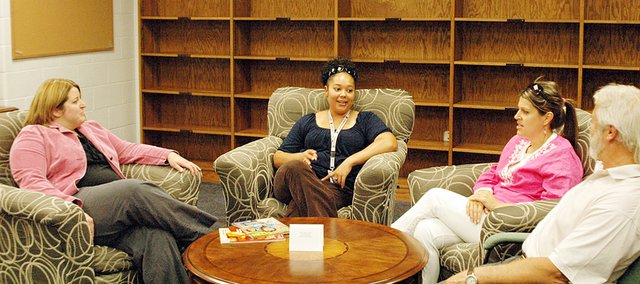 Eudora USD 491 is partnering with Bert Nash Community Mental Health Center to place a mental health professional in three of its four school buildings.
Since it was founded 12 years ago in Lawrence, the program — called WRAP — has intervened in everything from suicides to homelessness.
"Anything that you can possibly think of that's difficult, painful or problematic in a kid's life, we've dealt with it," said WRAP coordinator and founder Charlie Kuszmaul.
A Safe Schools Healthy Students grant will finance WRAP, which stands for Working to Recognize Alternative Possibilities Program.
When young people are trying to work their way through problems, it can have an effect on their ability to concentrate.
"You go into survival mode. It's a physiological response and it's important to get people to understand that you've got to get that part soothed and calmed down enough so that you can access the cognitive centers and focus on academics," said Christina Mann, the school district's safe schools grant director.
Kuszmaul said WRAP can help students learn how to handle their problems better — and, therefore, be more successful.
"The idea is that if you're successful at school, you're going to be successful at life," he said. "The more effective you are at dealing with all the things that happen that get in the way of being successful at school, then the more effective you'll be at dealing with those things in life."
WRAP workers Tiffany Fike, Rachel Wiggins and Amy Brown said they have been welcomed into the district by both parents and staff.
Wiggins said parents also have noted they are glad to see their children receiving more than academic support.
"Overall, it's been a warm reception, and there have been some sighs of relief (from parents)," said Wiggins, who works at Eudora Elementary School. "It's been really positive with the staff, too."
Fike works at Eudora Middle School and Brown works at Eudora High School.
The three women can see students through referrals from mental health professionals, school district staff, parents and classmates. Students also can ask to meet with WRAP workers.
Before working with a student, WRAP workers must contact a student's parent or guardian. If the parent or guardian declines the free services, WRAP workers will not make contact with the student.
At this point, WRAP workers meet with students about once a week, unless circumstances dictate the need for more meetings. However, workers do make contact with students throughout the day.
Fike said she hopes students view meetings as a safe haven.
"Being a separate entity in terms of the level of confidentiality that we can provide to the kids, my hope is that they have a sense that it's a really safe place for them to say what they need to say and process what's going on with them and not be afraid of sharing things that are really personal and hard to discuss," she said.
Wiggins said the negative stigma attached to meeting with a mental health professional is the main barrier to a student receiving treatment.
Fike said some parents don't always know whether a change in their child's behavior is normal or if there is a deeper issue that should be addressed.
"Our intention is to increase the awareness that dealing with mental health issues are a normal part of life," Kuszmaul said. "Everyone does it, but some people need more help than others."
Mental health services for kindergartners and preschoolers will be available in schools next year.
"We're really lucky to have a partner in this initiative that is able to bring that continuum of services, both the school based and the outpatient services," Mann said of Bert Nash.