Senior Night delight
Seniors lead comeback, Cardinals rally past Ottawa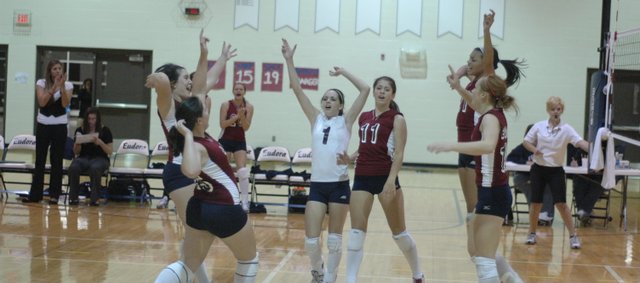 The Eudora seniors left the court in style as they ducked below a tunnel of hands and arms from the Eudora student section.
The three seniors – Alex Mott, Abby Mott and Shea Lounsbury – fueled Eudora's comeback against Ottawa, and the Cardinals won in four sets (23-25, 25-15, 25-16, 25-17) Tuesday at Eudora.
With a boisterous student section dressed mostly in all black at their backs, the crowd's cheers and chants seemed to energize the Cardinals.
"Fan support makes a big difference, but nothing gets you pumped up more than seeing your teammate jumping crazy next to you," Abby Mott said. "It's so exciting for you and that's what we rely on is each other."
With the score tied at 17 in the first set, during time out Eudora volleyball coach Jill Stutler told her team to play with more passion. Her girls got the message.
"In that first set, we weren't serving very well," Stutler said. "And every time we earned a point we go back there and hit a ball out of bounds and it just takes the momentum away from us. So I think we finally started to click and made a couple changes and some girls stepped up for us tonight."
In the next three sets, Abby Mott had four aces, Alex Mott had three aces and Lounsbury had four blocks.
"We've been working on trying to take away certain angles to get blocks, and we're starting to get there," Lounsbury said. "I don't think we're there yet, but we definitely improved tonight,"
The seniors also received a boost by the play of several others, including freshman Madison Maring and junior Allie Johnson.
Johnson had numerous assists at setter and also made several digs on defense. And Maring made her presence felt at the net, notching several blocks and kills.
"It took until sets two, three and four to get our middles established to start freeing up our outside," Stutler said. "Madison did really well on that, and she started to build some momentum."
With the win, the Cardinals are 6-2 overall on the season and are building momentum to start the second half of the year, thanks in large part to their three seniors.
"I think we started with nine and they are our last three survivors," Stutler said. "They've worked hard and this is a great way to send them out on Senior Night."
Next up for Eudora is the Tonganoxie Invitational Saturday in Tonganoxie.