EHS

boys top Baldwin 43-34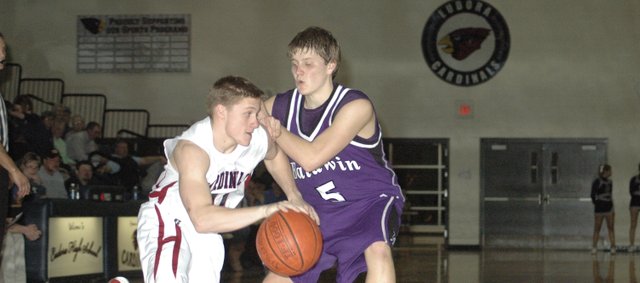 EUDORA – Eudora High's Justin Ballock scored 17 points and Brian Katzfey added eight to help lead the Eudora boys to a 43-34 victory over Baldwin Monday in Eudora.
Eudora led 28-20 at the break, but Baldwin started the second half on a quick 5-0 run and eventually cut the lead to three at the end of the third quarter. But the Eudora defense held the Bulldogs to one field goal in the fourth quarter - a three-pointer by Zach Wright that cut the Eudora lead to four at 38-34 with 5:42 to play.
But Eudora seniors Connor Scott and Evan Cleveland then combined to make five free throws down the stretch that preserved the win for the Cardinals.
Justin Vander Tuig led Baldwin with 12 points and Camdon Schwartz and Wright added eight a piece.
Eudora (9-6) will play Gardner Friday at Eudora. Baldwin (6-8) will play St. James Tuesday at home.
Score by quarters
1 2 3 4 F
Baldwin 11 9 11 3 34
Eudora 17 11 6 9 43
Baldwin: Kyle Pattrick 2, Asher Hannon 2, Camdon Schwartz 8, Caleb Gaylord 2, Zach Wright 8, Justin Vander Tuig 12.
Eudora: Coulter Vestal 6, Connor Scott 4, Evan Cleveland 3, Justin Ballock 17, Brian Katzfey 8, Drew Noble 5.