Eudora Middle School students use Valentine's Day to raise money for Haiti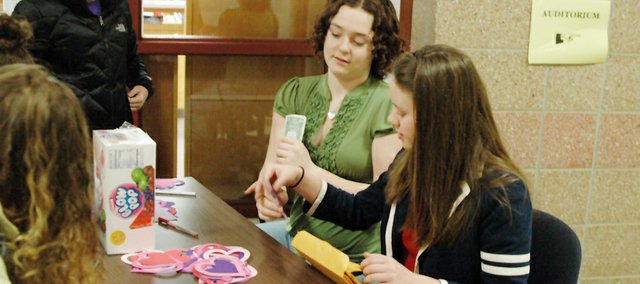 Many take the time to show love for their significant other on Valentine's Day.
Eudora Middle School eighth-graders Logan Brown and Kennedy O'Dell are using the holiday to show their love for humanity.
Prompted by several news reports about the conditions in Haiti after the small island nation was hit by an earthquake about a month ago, the students organized fundraiser called Spread the Love.
They are selling Valentines for $1 to their fellow students this week and all of the proceeds will go toward efforts by American Red Cross to benefit Haiti.
"You look at the pictures and the interviews of the people in Haiti and what they're concerned about — do they have enough to eat, where are they going to sleep tonight — and then my worries, like am I going to be able to go to my friend's house on Friday," Brown said. "It really makes you think and makes you want to help people who are less fortunate."
Though she's only in eighth grade, it's not the first time Brown has organized a fundraiser for an area hit hard by a natural disaster. When she was in third grade, she raised money for victims of the Indian Ocean tsunami. The next year, she raised money for victims of Hurricane Katrina.
Though her parents said the fundraisers were all her idea, Brown credited her upbringing.
"My parents always have told me that the world doesn't owe me anything," Brown said. "They've always taught me that I need to help people and that I live a very fortunate life."
As of Tuesday, the girls had collected about $50. And while they're collections won't solve all of the issues in Haiti, O'Dell said it was important to do whatever they could.
"In every class, we're seeing pictures (of Haiti) and you see that any difference you can make will help," O'Dell said.
Brown and O'Dell are considering other fundraisers to do throughout the rest of the year.
Eudora Middle School Principal Rich Proffitt said the students' actions are a reflection of values instilled in them by their parents, and a reinforcement of those values on the part of the school.
"We are continually looking for opportunities for students to help others both inside and outside the school," he said. "We don't want them to do it for reward, but rather because it is the right thing to do. Any time that they come up with an idea like this, which they came up with on their own, we try to provide them the opportunity to accomplish their desires.
"I never cease to be amazed at the caring attitude of our students."