Thunder quiets Cardinals 67-53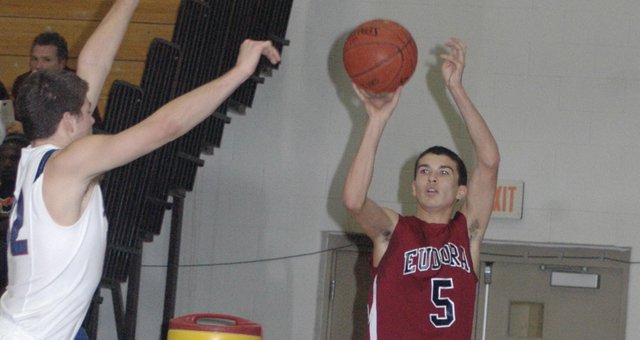 LENEXA – Justin Ballock scored 18 points and Connor Scott and Drew Noble added 10 apiece, but the Eudora High boys fell, 67-53, Monday at St. James.
Eudora trailed 37-25 at the break, but St. James outscored the Cardinals 15-7 in the third quarter, and the Thunder had a 20-point lead at the end of the third quarter. But sparked by threes from Ballock and Scott, Eudora went on a 16-3 run and cut the SJA lead to nine with three minutes to play in the game. But St. James answered with a 9-4 run that put the game away.
Eudora (9-8) will play Metro Academy Friday at Eudora. For more on this story, read Thursday's Eudora News.
Score by quarters
1 2 3 4 F

Eudora 10 15 7 21 53
St. James 23 14 15 15 67
Eudora: Evan Cleveland 4, Connor Scott 10, Justin Ballock 18, Drew Noble 10, Matt Jump 2, Brian Katzfey 3, Coulter Vestal 6.
St. James: Jim Getto 15, Jonathan Anakwe 15, Mike Huppe 5, Clint McCullough 25.