Defense boosts Cards past Metro 37-34 in
OT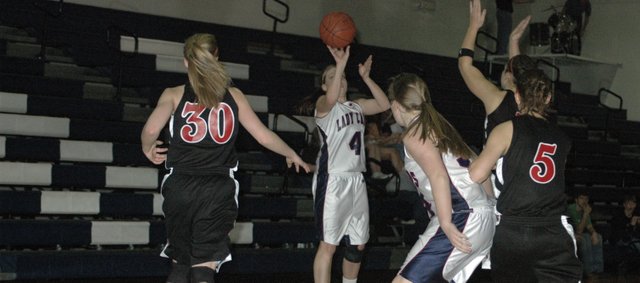 The Eudora girls needed this one.
Going into Friday's game against a solid Metro Academy team at EHS, the Cardinals had dropped seven in a row, but two of those losses were by seven points or less. But the Cardinals regrouped and beat the Mavericks 37-34 in overtime.
In the extra period, Eudora outscored Metro 5-2, and it was a solid defensive effort that won it. In the second half, Eudora held Metro to just 15 points. And in the final two minutes of overtime, the Cardinal defense didn't allow a point.
"We have to win with defense," coach Todd Cossman said. "That's been our motto all year, and I thought we really did a good job of coming out and playing hard. They are an amazing three-point shooting team. And I thought we did a great job of getting out and contesting their shots. And when they made them we had somebody in their face, and that was huge for us. I thought that was the most important aspect of the game."
Victoria Lehmann, who pulled down five rebounds during the fourth quarter and overtime, also scored the go-ahead basket with 1:30 to play on a layup via an assist by Hannah Kouri.
With 43 seconds to go, the Mavericks were setting up a play to take the final shot of the game. But senior Evan Folks' pressure at the timeline caused a Metro turnover, giving the ball back to Eudora.
On the ensuing possession, Shea Lounsbury grabbed an offensive rebound, and Sydney Schmille scored a layup, and the Cardinals held on for the victory.
"I thought all the kids just hustled hard all night," Cossman said. "We did a good job on the boards, did a good job defensively, and we scored enough points to win."
Facing Metro's zone, Folks, Kouri and Jennifer Bowser slashed inside and created open shots in the lane for themselves and easy looks for teammates on the outside.
"We talked about their zone in the locker room before the game, and we wanted to be aggressive on it with our guards," Cossman said. "We were looking for some dribble penetration – not necessarily to score – but to get it out for some open shots on the perimeter. And we knocked down just enough perimeter shots to get the victory."
Folks and Schmille scored nine points apiece to lead the Cardinals in scoring. Kouri added four, Bowser seven, Lounsbury four, and Lehmann and Valerie Pringle added two points each.
Eudora also played Tuesday at Ottawa and lost 52-19. Folks led the Cardinals with six points, Lounsbury and Slavin scored three, Pringle, Lehmann and Molly Brunton each scored two.
Eudora will play Spring Hill Thursday on Senior Night at EHS.
"I know we've faced a lot of adversity this season, but they've come in and they've competed all year. They've given the effort. And it doesn't always show on the scoreboard, but they've been a good group to coach."
Eudora will begin sub-state play at 7 p.m. Monday at St. James.