Williams sparks Cards past Metro, boys fall at
OHS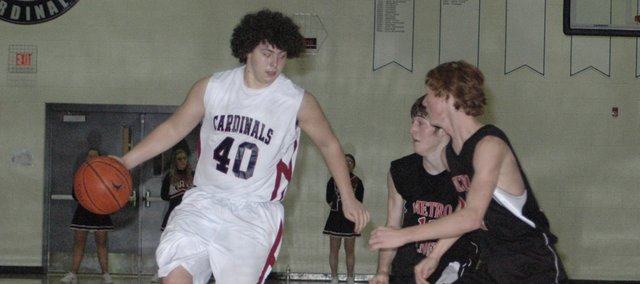 It seemed all the Cardinals needed midway through the first quarter was a little spark to take flight.
Enter reserve sophomore guard Brennen Williams, who has logged plenty of minutes on the junior varsity team and a few on varsity. Williams made immediate contributions, as he swished a three and had an offensive rebound soon after checking into the game. And thanks in part to his early spark, the Cardinals cruised past Metro Academy 64-41 Friday at Eudora.
"Everyone plays a part in it, but I figured my role on the team was to come in here and get them going," Williams said.
Williams also drilled a three-pointer in the third quarter, when the Cardinals put the game away by outscoring Metro 23-10. Williams finished with six points and four rebounds in the contest.
"When you play hard, good things happen a lot more than they do when you don't play hard," Deterding said. "And that kind of set the tempo right away. Our intensity in the first quarter was the best it's been in the first quarter for quite some time. I mean, we've been talking about that a lot, and tonight something clicked with them and they actually got after it. Offensively we weren't great in the first quarter, but defensively, we were really solid. And the third quarter, it was the same thing."
During the first and third quarters, Eudora put up 37 point offensively, and held Metro to just 17.
"That was the most fun I've had as a coach coaching us in quite a while," Deterding said. "We did a lot of little things that we haven't done for a while, and we competed and we got after people, and that was enjoyable."
Though Eudora didn't have a double-digit rebounder, the Cardinals still won the rebound battle as Justin Ballock had seven, Drew Noble six, and Brian Katzfey chipped in five boards.
"We don't have a guy who is going to get 10 or 12 rebounds a game," Deterding said. "If we don't rebound as a team, then we get hammered on the boards, and it's killed us several games. And we need a bunch of people to get four or five rebounds."
Eudora also had just 13 turnovers in the game. Ballock led the Cardinals with 20 points, Noble 13, Coulter Vestal eight, Katzfey four, and Connor Scott, Hawley Montgomery and Mack Hartwell scored two each.
Eudora also played at Ottawa Tuesday night and lost 53-29.
Eudora combined for only 14 total points through the first three quarters of play, but cut a 23-point fourth quarter deficit to 12 midway through the fourth, but Ottawa closed the game with a 12-0 run.
Noble led Eudora with nine points, Ballock had eight, and Joel Lauer four. The Cardinals will return home Thursday to play Spring Hill on Senior Night.
"They're really good kids," Deterding said of his seniors. "I mean, off the floor, they're good kids, and on the floor they are fun to be around. They've been a pretty good group, and they've been pretty good friends with each other."
Eudora also will begin sub-state play next week. The Cardinals will play at 7 p.m. Tuesday at Piper. Should the Cardinals win, the rest of the tournament will be played at Basehor-Linwood.