Girls basketball happy to be back home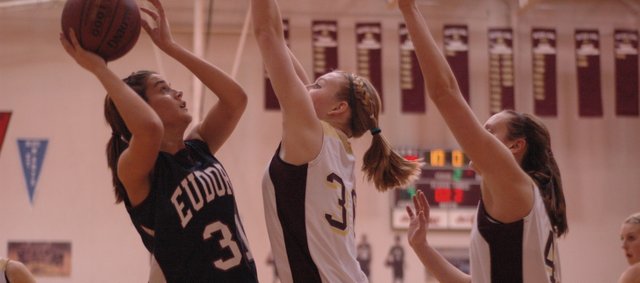 The Eudora girls basketball team finally gets to play a home game.
The Cardinals played their first six games of the year on the road and will play rival Baldwin Friday at Eudora.
"We had some really good practices over break," coach Todd Cossman said. "I think it gave us a chance to catch our breath after we had a bunch of games right at the end. It'll sure be nice to get a home game."
Eudora enters the rivalry game with a 2-4 record, having beaten Anderson County and Tonganoxie and losing to K.C. Turner, Piper, Silver Lake and Prairie View before Christmas break.
Baldwin enters the contest at 3-3 having notched wins against Anderson County, Central Heights and De Soto.

"They're a pretty solid ballclub," Cossman said. "They get after it. I think they were pretty young last year and return a lot of their starters this year. They're young, they're long and they are pretty good defensively, and they got three or four girls who can score."
Eudora also has a few scorers of its own in Evan Folks (10 ppg), Sydney Schmille (8 ppg) and Victoria Lehmann (6 ppg).
Cossman said to beat Baldwin the girls needed to rebound and take care of the basketball, both of which the Cardinals have struggled doing the first six games.
"We've got to rebound well," Cossman said. "That's been a problem for us all year. And we're not real big, so we're not going to go out there and just out jump them. We've got to make sure we box out and are in the correct rebounding position. We've got to cut our turnovers down. Those two things are our biggest keys."
When the Cardinals haven't turned the ball over, they've shown they can score from the perimeter and inside the paint, as seniors Evan Folks, Sydney Schmille, Hannah Kouri and Shea Lousnsbury have given the Cardinals some offensive punch.

"When we actually get a chance to get in our half-court sets and run our offense, we do a pretty good job," Cossman said. "Our defense has been pretty solid and our press has been solid. It's just been a lot of our own little mistakes that kind of hurt us throughout the game. We haven't really been able to put a full game together. We put little spurts but we haven't been able to put a full half or a full game together."
The game also will be the first league game of the season for the Cardinals. After Baldwin, Eudora will play Wellsville and De Soto next week.