Worth the weight
Undersized Molby places fourth in heavyweight at state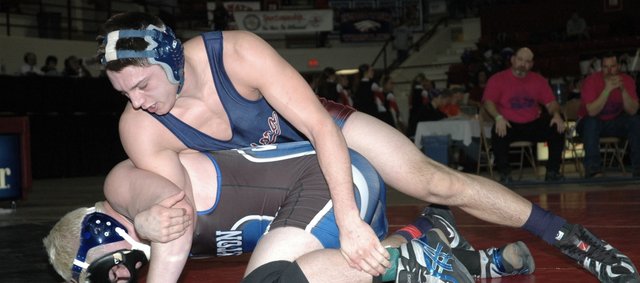 Wrestling at a little more than 200 pounds, Eudora junior Caleb Clayton-Molby is definitely undersized in the 285-pound heavyweight class. But that hasn't slowed him down all year, and it didn't last weekend at state.
Molby, despite weighing about 85 pounds less than all of his competitors, fought all the way to a fourth-place finish and a medal at the Class 4A State Wrestling Tournament Saturday in Salina.
Molby went 3-2 at the tournament, winning two of those by pin. Molby lost to last year's state champ Tank Burns from Columbus in the semifinals.
Molby was joined by six other Cardinals at the tournament – Caden Lynch (112), Thomas McLees (119), Tim Wright (125), Dalton Hladky (140), Tyler Crowe (152) and Boomer Mays (215).
Lynch, Wright and Hladky all won a match at the state's biggest show.
"Overall I really thought we went out there and competed pretty well," coach Jason Tharp said. "This tournament was so good, even more so than it has been in the past. Even the first round seemed like it took forever because you didn't have any pins. Everything was going the full six minutes, and every match was close. And that's what you had to do to win if you were going to win those close matches. And you had to win a bunch of them in a row."
While Molby was the only Cardinal wrestler who advanced to the second day, Tharp saw improvement in his team as several of them competed much better against opponents they had faced earlier in the year.
"There were quite a few guys that really did a good job, and you could see the progress they made," Tharp said. "There were a lot of kids who went out there ready to wrestle and ready to compete. You could see that our guys made some serious improvement."
Like Molby, it was the second straight trip to the state tournament for McLees and Mays. McLees, who won the regional championship last week, went 0-2 at the tournament. But McLees came down ill and missed all but one day of school last week.
And though his career didn't end as he would have liked, McLees, who spent his first two years on the junior varsity squad, said he would remember most how the team came together under first-year coach Tharp.
"The team grew a lot closer together and we started to respect each other a lot more," McLees said. "And I think when we started respecting each other more, we started wrestling better. And everybody was trying to get everybody up and ready for the tournaments."
And though Tharp will lose McLees and Hladky from the varsity roster, he will return five state qualifiers next year.
"We're going to try to do a little more this summer," Tharp said. "And hopefully it'll get us to where we're not only competing at that level, but winning more matches at the state tournament and able to go in there and get some more medals."