Eudora student adds to an already full schedule of activities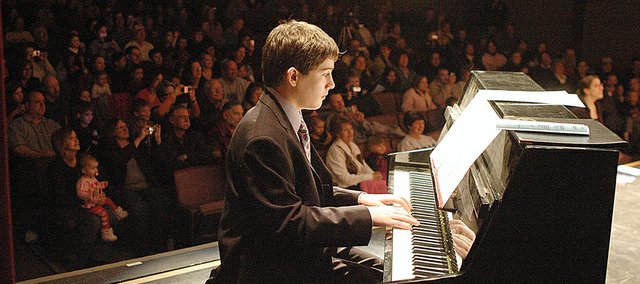 Mason Kelso sits at the piano, organizes his sheet music and his hands hover above the keys.
You wouldn't know by the somber look on the 14-year-old boy's face that he was about to accompany several youngsters in the bouncy kindergarten staple, "Thee Little Fishies."
Kelso, an eighth–grader at Eudora Middle School, has been the accompanist for Eudora Elementary School honor choir, kindergarten and first-grade concerts for about three months.
He has been playing piano since he was 4 years old. He also plays the clarinet and the xylophone. Though he comes from a musical family, he is the only one who plays multiple instruments.
"We did think early on that he had some talent — he would try and copy his brother as Matthew started piano first and when he had some success, we thought perhaps this area should be explored more," his mother Robyn Kelso said. "Of course as we look back now, we had no idea how good he would turn out, and a lot of it just goes back to work ethic."
His work ethic also has impressed EES music instructor Kristen Knight.
"He never complains about performing or practicing," Knight said. "In an age where students would rather play video games or sit around a television, Mason breaks the mold by working so hard in his musical endeavors."
Though he gets paid for his time, that didn't factor in to his decision to take on one more responsibility.
"My schedule was free, I like to play the piano, and I figured I'd be giving back to something that I once did when I was young," Kelso said.
Whether his schedule is free is debatable.
Along with participation in the Eudora 4-H Club and playing soccer, he plays xylophone in a brass band, clarinet in the De Soto woodwind band and teaches piano.
His parents, Mike and Robyn Kelso, said they do sometimes worry about their son getting burned out on music, so they try to encourage balance in his extracurricular activities.
"Mason does take his music seriously and is very talented," Robyn Kelso said. "But we also encourage him to play soccer and to be involved in church and 4-H as well. So every once in a while when I catch him on Farmville or YoVille or whatever the Facebook -ville of the moment is, I really resist the urge to ask him if he's practiced, done his homework or whatever, because every kid needs to be a kid."
It's all in a day's work, so to speak, for Mason.
"It's something to work toward," he said of playing the piano. "That way, I have something in my life that I can strive to achieve, and I'm not just sitting around the house."