Staff say losing reading positions at
EMS

would be a setback for all subjects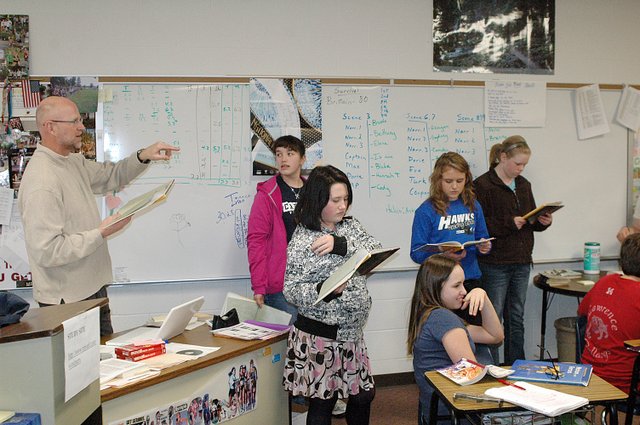 This is the second in a series of stories that will take a closer look at the Eudora USD 491 Board of Education's options for budget cuts.
Part of the Eudora School District's core values are to meet the individual needs of each student.
That will become more difficult if the Eudora USD 491 Board of Education cuts three reading positions to address a $410,000 budget deficit.
The deficit is a result of base state aid per pupil decreases totaling about $400 since the start of the 2009 school year.
The three reading positions, as well as a half-time math skills instructor and a library aide could save the district about $173,000.
The district added the three positions about four years ago because it recognized the benefits of separating the language arts classes into reading and writing.
Superintendent Don Grosdidier said the move was part of an initiative to increase language arts staff at all grade levels
"If you take a look at it across the district, we have placed a greater emphasis on reading and writing as a whole," he said.
The change started in 2006 at the sixth grade, and continued in 2007 with seventh grade. In 2008, the change was made for the eighth grade.
"It is a little bit hard to discern improvement on particular scores since the assessments have changed since the inception of splitting our programs," EMS Principal Richard Proffitt said. "I will tell you that we have continually been well above the targeted areas in both reading and writing on the state assessments during that period for all students."
But Proffitt also said the state assessments provided a just snap shot of what the classes mean to students.
Paul Boone has been an English instructor at EMS for 24 years. He said he could see an improvement in the students' communication skills, which carry over to all other subjects.
"You see kids better able to say what they mean and better able to write," Boone said. "It's been proven that the more you read, the better your vocabulary. So, those are things that tie into all classes."
By cutting the positions, class size also would increase.
This could cause discipline issues and decrease the time teachers can spend working with individual students.
"The loss will not be felt in terms of state assessment scores," Proffitt said. "The effect will be felt in our students' ability to receive more focused instruction, which has an impact on their overall learning."
Proffitt said class sizes vary, but the average teacher to student ratio is 1:18. The reduction would push the average ratio to 1:25.
Boone said he already has a class of with 25 students, but most of his classes are smaller than that.
He also noted that a larger class where he had to cover more material would cause him to have to make cuts to certain lessons, such as a recent lesson that set the scene for students who were about to read a Jack London story set in Alaska.
"Because of time, those things would be difficult to do," Boone said.
Despite the possible difficulties that could be caused should the cuts be made, Proffitt said he and his staff would continue to expect the same high level of student success.
Grosdidier said he and the Board didn't take any of the proposed cuts lightly.
"Make no mistake about it, I recognize and the Board recognizes that these are all steps backwards," he said. "We also recognize that if we do have to take steps backwards, it might be easier to do that with something we just started three or four years ago as opposed to something that has been going for a long time."
He also said that it is the intent of the Board to re-establish most programs and positions that are cut.
More like this story