USD

491 sets stage for big decisions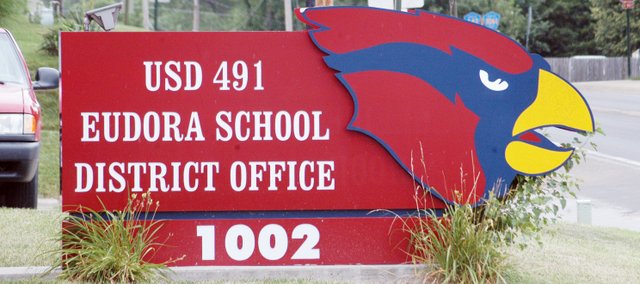 The fate of the Eudora USD 491 district stadium likely will be decided at Thursday's Board of Education meeting.
The facility, which is the final project associated with the district's $45 million bond issue, was put out to bid last month. Those bids will be discussed Thursday.
Last week at a special Board meeting, district construction consultant Don Swartz told the district that depending on the bids, the stadium could cause the bond projects to be from $200,000 to $894,000 over budget.
In order to mitigate the overage, the district paid $25,000 in January for designs and a list of supplies needed to build the stadium. This method will allow the Board members to choose certain parts of the stadium the district could afford to build and other parts that can be deferred.
The initial parts of the stadium that would be built are the field, an eight-lane track, a fence, lights and scoreboard.
Alternates included colored end zones, a cardinal head in the middle of the field and bathrooms.
Football, soccer and track teams would use the stadium.
If a new stadium were built, it would free up the Nottingham and Laws Field site for development. Developing the property could increase Eudora's miniscule business tax base, while at the same time providing financial relief to the district.
The property was appraised in 2008 at $845,000. Demolition could cost as much as $200,000, but Swartz said that likely wasn't the case anymore because the costs have sharply decreased.
The board discussed the possibility that it could pay for the low end of the overage by raising the mill levy by four mills.
Board President Kenny Massey asked to hear from Board members regarding their thoughts on raising taxes to fund the stadium construction.
Responses varied, as Board Vice-President Joe Pyle said he was trying to look at the issue in the context of what it would mean to the long-term welfare of Eudora.

"I'm not a big fan of tax increases, but sometimes in our role, we have to do things like that," he said.
Board member Mike Kelso said he also realized the need for the stadium. And though he knew the two issues weren't directly related, he didn't like the idea of building the stadium at an overage while being faced with cutting programs and jobs throughout the district.
Furthermore, if the stadium was built, Kelso said it should be done right — a reference to the fact that it could be built without bathrooms and concession stands.
The other board members agreed with both men and the consensus was that they all would know more when the bid prices were discussed at Thursday's meeting.
More like this story